Threadfin acara
Acarichthys heckelii is the single species in the monotypic genus Acarichthys of cichlid fish.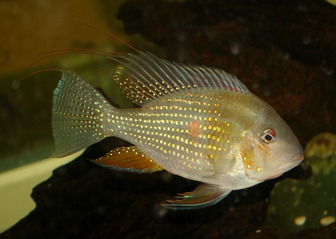 Picture of the Threadfin acara has been licensed under a Creative Commons
Attribution-Share Alike
.
Original source
: Originally from en.wikipedia; description page is/was here. Author Original uploade
Author
: Original uploader was MidgleyDJ at en.wikipedia Permission (
The Threadfin acara lives in the benthopelagic, potamodromous, freshwater, dH range: 18 environment.
Threadfin acara; Threadfin bonefish; Fourfinger threadfin; Threadfin leatherjacket; Threadfin jack; Threadfin shad; Threadfin anthias; King threadfin; Threadfin angler; Total Images : 87 Page No. More
The Threadfin Acara is the only representative of the Acarichthys family, closely related to the Eartheaters. They love to dig but are very territorial toward their own kind, so if keeping more than one a huge territory allowment must be made. More
Common names
Acarichthys heckelii in Catalan (Català)
Acarichthys heckelii in French (français)
Heckels Buntbarsch in German (Deutsch)
Heckels cichlide in Danish (dansk)
Heckels ciklide in Norwegian (Norsk)
Rihmakirjoahven in Finnish (suomen kieli)
Threadfin acara in English
黃臀珠母麗魚 in Mandarin Chinese
黄臀珠母丽鱼 in Mandarin Chinese

Custom Search