Red band-fish
Cepola macrophthalma is a bandfish of the family Cepolidae.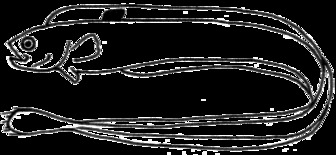 Picture of the Red band-fish has been licensed under a Creative Commons
Attribution-Share Alike
.
Original source
: self-made (pen on paper, then scanned, based upon Louisy, P.. Guida all'identificazione dei Pesci Marini d'Europa e del Mediterraneo. Il Castello.
Author
: yoruno Permission (
The Red band-fish lives in the demersal, marine, depth range 15 - 400 m environment.
Nothing known about the Red band-fish
Common names
Bandiera rossa in Italian (Italiano)
Bannera 'mperiali in Italian (Italiano)
Bannera russigna in Italian (Italiano)
Calagnairis in Italian (Italiano)
Cepola in Italian (Italiano)
Cepola in Spanish (español)
cepole in French (français)
Cépole commune in French (français)
Cepolla in Italian (Italiano)
Ciapudda in Italian (Italiano)
Cinta in Catalan (Català)
Cinta in Spanish (español)
Cinta colorada in Spanish (español)
Cipodda in Italian (Italiano)
Cipolla in Italian (Italiano)
Cipudda in Italian (Italiano)
Cipuja in Italian (Italiano)
Codornera in Catalan (Català)
Festuccia in Italian (Italiano)
Fettucia in Italian (Italiano)
Fiammetta in Italian (Italiano)
Fjamma in Maltese (Malti)
Fjamma hamra in Maltese (Malti)
Flandra baligi in Turkish (Türkçe)
Flandra balığı in Turkish (Türkçe)
fouet in French (français)
Galera in Italian (Italiano)
Kordela in Greek (Ελληνικά)
Kordela in Greek, Modern (1453)
Kurdela in Croatian (Hrvatski)
Kurdele baligi in Turkish (Türkçe)
Kurdele balığı in Turkish (Türkçe)
Macinac crveni in Croatian (Hrvatski)
Ntricciarete in Italian (Italiano)
Pesce cipolla in Italian (Italiano)
Pesce fettuccia in Italian (Italiano)
Peshk shirit in Albanian (Shqip)
Pesse cordela in Italian (Italiano)
Pesse spada in Italian (Italiano)
Pez cinta in Spanish (español)
Picaggia in Italian (Italiano)
Pisci bannera in Italian (Italiano)
Pisci bannerina in Italian (Italiano)
Pisci cibudda in Italian (Italiano)
Pisci cipolla in Italian (Italiano)
Pisci cucuzza in Italian (Italiano)
Pixxifjamma in Maltese (Malti)
Rdeèi meèak in Slovene
Rdeèi meèak in Slovenian (slovenščina)
Red band-fish in English
Red bandfish in English
Resabett in Italian (Italiano)
Röd Bandfisk in Swedish (Svenska)
rode lintvis in Dutch (Nederlands)
Roter Bandfisch in German (Deutsch)
Ruggeolo in Italian (Italiano)
Sapunaru in Italian (Italiano)
Scignüa in Italian (Italiano)
Scurianzo in Italian (Italiano)
Spada rossa in Italian (Italiano)
Stringa in Italian (Italiano)
Suspensório in Portuguese (Português)
Veta in Catalan (Català)
Wstegówka in Polish (polski)
Xabla in Maltese (Malti)
Ziarella in Italian (Italiano)
Κορδέλα in Greek (Ελληνικά)
Κορδέλα in Greek, Modern (1453)
Τσίπουλα in Greek (Ελληνικά)
大眼赤刀魚 in Mandarin Chinese
大眼赤刀鱼 in Mandarin Chinese
赤刀魚 in Mandarin Chinese
赤刀鱼 in Mandarin Chinese

Custom Search