Stripefin ronquil
The stripedfin ronquil is a fish native to the eastern Pacific Ocean.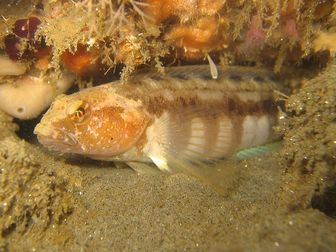 Picture of the Stripefin ronquil has been licensed under a Creative Commons
Attribution-Share Alike
.
Original source
: Stripedfin Ronquil (Rathbunella hypoplecta). Species ID with Coastal Fish Identification by Paul Humann. Picture taken in
The Stripefin ronquil lives in the demersal, marine environment.
Nothing known about the Stripefin ronquil
Common names
Blubanded ronquil in English
bluebanded ronquil in English
ronco pelón aletirrayada in Spanish (español)
ronco pelón rayado in Spanish (español)
rough ronquil in English
smooth ronquil in English
Stripedfin ronquil in English
Stripefin ronquil in English
加州深海鳚 in Chinese (中文)
加州深海鳚 in Mandarin Chinese
粗体拉氏鳚 in Mandarin Chinese
粗體拉氏鳚 in Mandarin Chinese
細體拉氏鳚 in Mandarin Chinese
细体拉氏鳚 in Mandarin Chinese

Custom Search