Spotted ctenopoma
The Leopard Bush Fish is endemic to the Congo river basin in Africa and has adapted to suit many different biotopes within this system from fast flowing streams to stagnant ponds.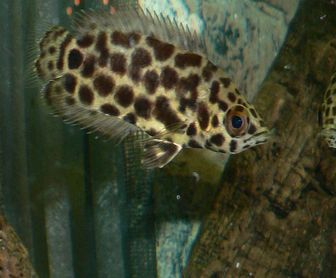 Picture of the Spotted ctenopoma has been licensed under a
GFDL
Original source
: Transferred from de.wikipedia; transferred to Commons by User:Brackenheim using
Author
: Zaire. Original uploader was Zaire
Permission
: GNU Free Documentation License
The Spotted ctenopoma lives in the benthopelagic, freshwater, pH range: 6.0 - 8.0, dH range: 5 - 12 environment.
The Spotted Ctenopoma is a rare relative of gouramis and climbing perches that is only recently gainign aquarium popularity. Their brown, spot-covered bodies help this fish to blend in with foliage and avoid predators in its native environment. More
Spotted ctenopoma ( common name ) let's test your knowledge! Ctenopoma acutirostre ( fish name )slovensky , français Share pictures of your fish! Upload them now! * Maximum size in aquariums (min-max): 17 - 20 cm ( More
or Spotted Ctenopoma (Ctenopoma acutirostre) in one of his tanks, since he's figured out that I'm a sucker for the oddball fish that everyone else passes over. "Hm, that's an interesting one," I said to myself, and went on my merry way. More
Do you have Spotted ctenopoma in your aquarium? Send me please a short paragraph about your experiences with Spotted ctenopoma. Some photo would be handy too. I will place both here. More
The Spotted Ctenopoma is also known as the Leopard Bushfish and the Spotted Climbing Perch. They are timid, and are most likely to beMore>> 1 Product(s) Starting at $9. More
Common names
Gefleckter Buschfisch in German (Deutsch)
Leopard bushfish in English
Leopardbuskfisk in Danish (dansk)
Pantterikiipijäkala in Finnish (suomen kieli)
spotted climbing perch in English
Spotted ctenopoma in English
小点非洲攀鲈 in Mandarin Chinese
小點非洲攀鱸 in Mandarin Chinese

Custom Search