Shortjaw kokopu
The shortjaw kokopu, Galaxias postvectis, is a galaxiid of the genus Galaxias, found only in New Zealand, apart from the Chatham and Stewart/Rakiura islands.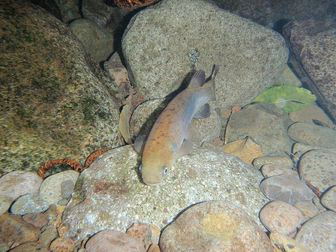 Picture of the Shortjaw kokopu has been licensed under a Creative Commons
Attribution-Share Alike
.
Original source
: Own work Author Blueether
Author
: Blueether
The Shortjaw kokopu lives in the demersal, amphidromous, freshwater, brackish, marine environment.
The shortjaw kokopu, Galaxias postvectis, is a galaxiid of the genus Galaxias, found only in New Zealand, apart from the Chatham and Stewart/Rakiura islands. It grows to a length of up to 26 cm. More
* Shortjaw kokopu, Galaxias postvectis Kokopu live 5 - 10 years but can reach in excess of 21 years. They spawn in leaf debris in stream beds or during spring tides and the eggs hatch about 30 days after being laid. More
The shortjaw kokopu is probably the rarest of the whitebait galaxiids, although recent discoveries of several new populations lead us to believe it is more common than previously thought. More
Shortjaw kokopuWhat do they look like? • As its name implies, the shortjaw kokopu has an undercut jaw, with the lower jaw being shorter than the upper jaw as in the koaro. More
The shortjaw kokopu were found in the upper Huatoki catchment and Mr Mitchell said they were some of the largest specimens of the fish he had seen. More
Shortjaw kokopu (Galaxias postvectis) in the northern Tararua Ranges : distribution and habitat selection / Title DOC science internal series, Shortjaw kokopu in the Tararua Ranges Full Record See UW Libraries Catalog Record More
Shortjaw kokopu and giant kokopu are on the threatened species list. Reasons for the decline include clearance of native forest and the vegetation along riverbanks where whitebait spawn, wetland drainage and structures in streams such as dams. More
Shortjaw kokopu (Galaxias postvectis) in the northern Tararua Ranges : distribution and habitat selection / http://bibpurl.oclc. More
Common names
Shortjaw kokopu in English
Shortjawed kokopu in English
whitebait in English
短頜南乳魚 in Mandarin Chinese
短颌南乳鱼 in Mandarin Chinese

Custom Search