Indonesian bamboo shark
Hasselt's bamboo shark, Chiloscyllium hasseltii, is a bamboo shark in the family Hemiscylliidae found around Thailand, Malaysia and Indonesia, between latitudes 23° N and 10° N, and longitude 91° E and 133° E.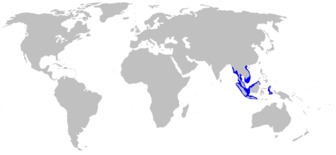 Picture of the Indonesian bamboo shark has been licensed under a
GFDL
Original source
: Compagno, Leonard; Dando, Marc & Fowler, Sarah (2005). Sharks of the World. Collins Field Guides. ISBN 0-00-713610-2.
Author
: Chris_huh Permission (
Permission
: GNU Free Documentation License
The Indonesian bamboo shark lives in the demersal, marine, depth range 12 - 12 m environment.
Indonesian bamboo shark successfully bred in Phuket Tom wrote 1 month ago: bamboo shark / Photo: flickr. More
Indonesian bamboo shark successfully bred in Phuket Phuket Aquarium has succeeded in breeding Indonesian bamboo sharks (the brown-banded bamboo shark) and released them into the sea off Mai Ton Island in provincial seat of Thailand's southern Andaman coastal resort island of Phuket. More
brown-banded bamboo shark and the Indonesian bamboo shark, which are no more than a metre long when fully grown. More
Indonesian Bamboo Shark Successfully Bred In Phuket August 21, 2009 Release from: MCOT English News = Phuket Aquarium has succeeded in breeding Indonesian bamboo sharks (the brown-banded bamboo shark) and released them into the sea off More
The Indonesian bamboo shark, which is completely harmless to humans, is also on the brink of extinction in local waters. The PMBC plans to monitor the the bamboo shark population in the area around the point of release to see if they can survive there. More
Indonesian bamboo shark successfully bred in Phuket = News Today in ASIA General News Political News Business News Features Features Indonesian bamboo shark successfully bred in Phuket Phuket Aquarium has succeeded in breeding Indonesian bamboo sharks (the brown-banded bamboo shark) More
Indonesian Bamboo Sharks in Captivity: This species may do well in captivity, once successfully acclimated. Captive Breeding of this species is possible. But generally this species, isn't as hardy as it more popular cousins. More
Common names
bamboa indonesa in Spanish (español)
brownbanded bambooshark in Unknown
Chalarm Gob in Thai (ไทย)
Hasselt's bambooshark in English
Hasselts bambushaj in Danish (dansk)
Indonesian bamboo shark in English
Indonesische bamboehaai in Dutch (Nederlands)
Žralucek Hasseltuv in Czech (česky)
requin-chabot indonésien in French (français)
Yu bodoh in Malay (bahasa Melayu)
Žralůček Hasseltův in Czech (česky)
多氏斑竹鯊 in Mandarin Chinese
多氏斑竹鲨 in Mandarin Chinese

Custom Search