Burmese bamboo shark
Reproduction is presumed to be oviparous.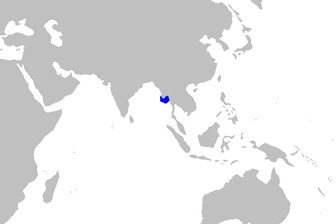 Picture of the Burmese bamboo shark has been licensed under a
GFDL
Original source
: Compagno, Leonard; Dando, Marc & Fowler, Sarah (2005). Sharks of the World. Collins Field Guides. ISBN 0-00-713610-2.
Author
: Chris_huh Permission (
Permission
: GNU Free Documentation License
The Burmese bamboo shark lives in the demersal, marine, depth range 29 - 33 m environment.
Range of the Burmese bamboo shark (in blue) Sharks portal The Burmese bamboo shark, Chiloscyllium burmensis, is an extremely rare bamboo shark in the family Hemiscylliidae, the only specimen found off Rangoon in Burma. The holotype's length is 57 cm. More
Burmese Bamboo Shark Chiloscyllium burmensis The Burmese Bamboo Shark is an extremely rare shark, known only from a holotype retrieved off Rangoon in Burma. Habitat: Tropical waters; up to 110 ft.; eastern Indian Ocean Length: ~1.8 ft. More
* Burmese bamboo shark, Chiloscyllium burmensis Dingerkus & DeFino, 1983 * Bluespotted bamboo shark, Chiloscyllium caerulopunctatum More
Common names
bamboa birmana in Spanish (español)
Birmabamboehaai in Dutch (Nederlands)
Birmabamboehaai in Unknown
Burmese bamboo shark in English
Burmesisk bambushaj in Danish (dansk)
Chiloscyllium burmensis in French (français)
requin-chabot birman in French (français)
緬甸斑竹鯊 in Mandarin Chinese
緬甸斑竹鯊 in Unknown
缅甸斑竹鲨 in Mandarin Chinese
缅甸斑竹鲨 in Unknown

Custom Search