Arabian carpetshark
The Arabian carpetshark is a species of carpet shark in the family Hemiscylliidae, inhabiting coral reefs and other shallow coastal habitats from the Persian Gulf to India.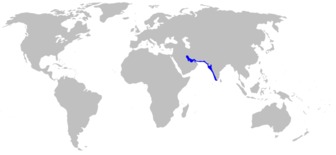 Picture of the Arabian carpetshark has been licensed under a
GFDL
Original source
: Compagno, Leonard; Dando, Marc & Fowler, Sarah (2005). Sharks of the World. Collins Field Guides. ISBN 0-00-713610-2.
Author
: Chris_huh Permission (
Permission
: GNU Free Documentation License
The Arabian carpetshark lives in the demersal, marine, depth range 3 - 100 m environment.
No image of Arabian carpetshark found in the Shark Database Range Map Earth Map Systematics Phylum: Vertebates (Chordata) Class: Carlilagenous Fishes (Chondrichthyes) Order: Carpetsharks (Orectolobiformes) More
The Arabian Carpetshark is endemic to the western Indian Ocean, specifically India, Pakistan, and the Arabian Peninsula, in depths up to 320 feet. Its biology remains virtually unknown. Habitat: Coral reefs, rocky shores, and mangrove estuaries, up to 320 ft. More
Common names
Arab bambuszcápa in Hungarian (Magyar)
Arabian bamboo shark in English
Arabian carpet shark in English
Arabian carpetshark in English
Arabische bamboehaai in Dutch (Nederlands)
Arabischer Bambushai in German (Deutsch)
Arabisk bambushaj in Danish (dansk)
bamboa arábiga in Spanish (español)
Chiloscyllium arabicum in French (français)
Confusing bamboo shark in English
Cucut dolok hitam in Jawa
Gorbeh-kooseh-e-arabi in Farsi
Gorbeh-kooseh-e-arabi in Persian (‫فارسی)
Haysan in Arabic (‫العربية)
Hiu bongo hitam in Jawa
Lahay in Arabic (‫العربية)
Žralok bambusový arabský in Czech (česky)
requin-chabot camot in French (français)
Žralok bambusový arabský in Czech (česky)
南亚斑竹鲨 in Mandarin Chinese
南亞斑竹鯊 in Mandarin Chinese
阿拉伯斑竹鯊 in Mandarin Chinese
阿拉伯斑竹鲨 in Mandarin Chinese

Custom Search