Inshore hagfish
The inshore hagfish is found in the Northwest Pacific, from the Sea of Japan and across eastern Japan to Taiwan.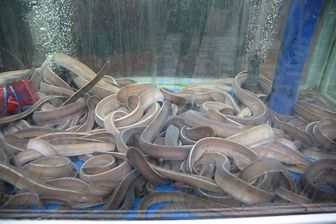 Picture of the Inshore hagfish has been licensed under a Creative Commons
Attribution-Share Alike
.
Original source
: http://www.flickr.com/photos/phploveme/3265484056
Author
: by Junho Jung at Flickr from South Korea
The Inshore hagfish lives in the demersal, non-migratory, marine, depth range 10 - 270 m environment.
species, the inshore hagfish, found in the Northwest Pacific, is valued as food in the Korean Peninsula. More
The inshore hagfish is found in the Northwest Pacific, from the Sea of Japan and across eastern Japan to Taiwan. It has six pairs of gill pouches and gill apertures. These hags are found in the sublittoral zone. More
The Inshore hagfish can grow to a maximum length of 116 cm (approx. 46 inches). Maximum age: Unknown. Protected? The Inshore hagfish are not protected. More
Inshore hagfish Eptatretus burgeri VLR homologs were identified by using lamprey VLR as blast queries against the database of expressed sequence tags from leukocyte RNA of unstimulated animals nos. 7 and 8 (16). More
Common names
Inshore hagfish in English
Kystslimål in Danish (dansk)
Mok-chang-o in Korean (한국어)
Nuta-unagi in Japanese (日本語)
Pasliznatka Burgerova in Czech (česky)
Piyavkorot burgera in Russian (русский язык)
Pú shì nián máng mán in Mandarin Chinese
布氏粘盲鰻 in Mandarin Chinese
布氏粘盲鳗 in Mandarin Chinese
无目鳗 in Mandarin Chinese
無目鰻 in Mandarin Chinese
蒲氏粘盲鰻 in Mandarin Chinese
蒲氏粘盲鳗 in Mandarin Chinese
青眠鰻 in Mandarin Chinese
青眠鳗 in Mandarin Chinese
鰻背 in Mandarin Chinese
鳗背 in Mandarin Chinese
龍筋 in Mandarin Chinese
龙筋 in Mandarin Chinese
먹장어 in Korean (한국어)

Custom Search