Valencian toothcarp
Its natural habitats are freshwater marshes, freshwater springs, coastal freshwater lagoons and acequias which may connect these.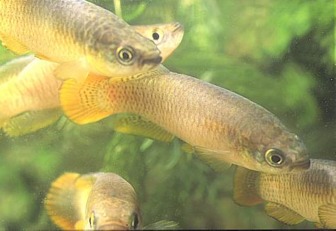 Picture of the Valencian toothcarp has been licensed under a
GFDL
Original source
: samarucs nadando en bandada
Author
: Alvaro1984 18
Permission
: GNU Free Documentation License
The Valencian toothcarp lives in the demersal, non-migratory, freshwater environment.
The Valencian toothcarp is classified as Critically Endangered (CR), facing an extremely high risk of extinction in the wild.

Nothing known about the Valencian toothcarp
Common names
Cryprinodonte de Valence in French (français)
Espanjankilli in Finnish (suomen kieli)
Ispanskiy zubatyi karp in Russian (русский язык)
Samarugo in Spanish (español)
Spanienkärpfling in German (Deutsch)
spanish toothcarp in English
Valencia hispanica in Spanish (español)
Valencia toothcarp in English
Valenciakärpfling in German (Deutsch)
Valencian toothcarp in English
Valenciatandkarp in Swedish (Svenska)
Valenciatandkarpe in Danish (dansk)
Zamaruco (pex) in Aragonese (Aragonés)
Ζουρνάς in Greek (Ελληνικά)
Ζουρνάς Βαλέντσια in Greek (Ελληνικά)
西班牙鮰 in Chinese (中文)
西班牙鮰 in Mandarin Chinese

Custom Search