Eastern mosquitofish
Eastern mosquitofish were introduced to Australia to control mosquitoes, when in reality various small Australian native fish were already keeping mosquitoes to a minimal level.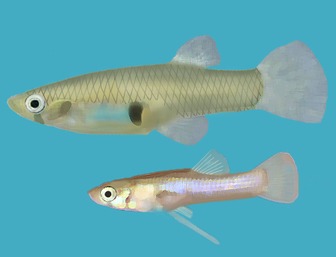 Picture of the Eastern mosquitofish has been licensed under a Creative Commons
Attribution-Share Alike
.
Original source
: Own work Author Osado
Author
: Osado
The Eastern mosquitofish lives in the benthopelagic, potamodromous, freshwater, brackish, pH range: 6.0 - 8.8, dH range: 40 environment.
The Eastern Mosquitofish is small, only growing up to 1 1/2 inches long. It is a light olive-brown color on top, with silvery sides and a yellowish belly. It has rows of black spots on its dorsal (back) fin and caudaul (tail) fin. More
The eastern mosquitofish, Gambusia holbrooki, is a species of freshwater fish that is closely related to the western mosquitofish, Gambusia affinis. It is a member of the family Poeciliidae of order Cyprinodontiformes. More
Eastern mosquitofish (Gambusia holbrooki) were exposed to 20,40, and 100% effluent concentrations for 60 days. Adult fish were collected at multiple locations in Rice Creek, an effluent-dominated site from Georgia-Pacific's Palatka, FL, operation. More
eastern mosquitofish are present in these systems, their degree of tolerance to coal ash has not been investigated using sublethal metrics of exposure. More
Eastern mosquitofish, Gambusia affinis Billy Hewitt Park, Five Mile Creek, Tarrant, Jefferson Co. More
species, the eastern mosquitofish, is found in Atlantic drainage rivers in Virginia. More
cycle in female Eastern mosquitofish from three lakes in Florida. - Kristensen T, Edwards TM, Kohno S, Baatrup E, Guillette LJ Jr. More
Eastern mosquitofish have a dorsally flattened body, upturned mouth, and strong anterior teeth, and are well adapted to surface feeding. They are gray to straw-yellow colored dorsolaterally with large cycloid scales well outlined by dark pigment. More
Common names
Barkaleci pikalosh in Albanian (Shqip)
Bore-drain fish in English
Eastern gambusia in English
Eastern mosquito fish in English
eastern mosquitofish in English
eastern nosquitofish in Unknown
Gambies in English
Gambunsino in Portuguese (Português)
Gambusia in Danish (dansk)
Gambusia in English
Gambusia in Farsi
Gambusia in Italian (Italiano)
Gambusia in Persian (‫فارسی)
Gambusia in Portuguese (Português)
Gambusia holbrooki in Catalan (Català)
Gambuzie in Rumanian
Marmorimoskiittokala in Finnish (suomen kieli)
mosquitofish in English
Östlig moskitfisk in Swedish (Svenska)
Østlig moskitofisk in Danish (dansk)
Peixe-mosquito in Portuguese (Português)
Peixe-sapo in Portuguese (Português)
Plague minnow in English
Starling's perch in English
Täplämoskiittokala in Finnish (suomen kieli)
Top minnow in English
Гамбузия in Russian (русский язык)
Кидик гамбузия in Kirghiz (кыргыз тили)
хольбрукская гамбузия in Russian (русский язык)
گامبوزيا in Farsi
东部食蚊鱼 in Mandarin Chinese
東部食蚊魚 in Mandarin Chinese

Custom Search