Cream loach
Despite being seen frequently in the aquarium trade, it is a very aggressive fish and not suitable for community aquarium tanks.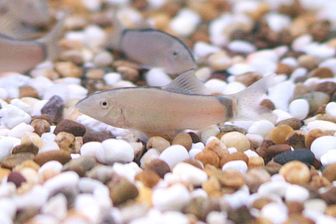 Picture of the Cream loach has been licensed under a
GFDL
Original source
: self-made. 400D+50/1.4
Author
: Lerdsuwa
Permission
: GNU Free Documentation License
The Cream loach lives in the demersal, freshwater, pH range: 6.0 - 8.0, dH range: 5 - 12 environment.
Do you have Cream loach in your aquarium? Send me please a short paragraph about your experiences with Cream loach. Some photo would be handy too. I will place both here. Learn more about aquarium filters. More
1885) - Cream Loach Yasuhikotakia nigrolineata (Kottelat & Chu, 1987) Yasuhikotakia pulchripinnis (Paysan, 1970) Yasuhikotakia sidthimunki (Klausewitz, 1959) - Chained Loach Yasuhikotakia splendida (Roberts, 1995) Yasumatsuia Yatala Roewer, 1942 Yatala hirsti Roewer, 1942 Yatesula Syd. & P.Syd. Yatesula calami Syd. & P. Syd. More
Also known as the Cream Loach or Mouse Loach, this is a great fish to group – either with its own species or with other similar Loaches. More
Common names
Aalstrich-Prachtschmerle in German (Deutsch)
Aalstrichschmerle in German (Deutsch)
Cream loach in English
Hora's loach in English
Hora's Schmerle in German (Deutsch)
Horae in English
Horas Schmerle in German (Deutsch)
Kaarinuoliainen in Finnish (suomen kieli)
Mausschmerle in German (Deutsch)
Mouse loach in English
Musebotia in Danish (dansk)
Skunk botia in English
Skunk loach in English
Skunkbotia in Norwegian (Norsk)
Trey kanchrouk in Khmer (ភាសាខ្មែរ)
穆尔沙鳅 in Mandarin Chinese
莫爾沙鰍 in Mandarin Chinese
霍氏沙鰍 in Mandarin Chinese
霍氏沙鳅 in Mandarin Chinese

Custom Search