Redtail botia
Other Latin names for this fish are Botia modesta and Botia rubripinnis.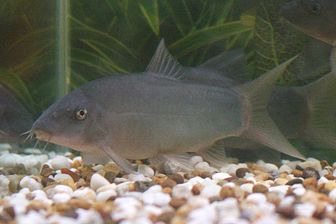 Picture of the Redtail botia has been licensed under a
GFDL
Original source
: self-made. 400D + 50/1.4
Author
: Lerdsuwa
Permission
: GNU Free Documentation License
The Redtail botia lives in the demersal, potamodromous, freshwater, pH range: 6.0 - 8.0, dH range: 5 - 12 environment.
Redtail Botia or Orange-Finned Loach is quite popular, a favorite species for many aquarists! The Redtail Botia or Orange-Finned Loach is rather stocky with a bluish to grayish body, sometimes with a slight green tint. More
The Redtail Botia Loach is a scaleless fish and a bottom-dweller that originates from the streams throughout Asia. More
Options: Reply•Quote Re: RE: redtail botia Posted by: Barb Watsin ()Date: June 04, 2007 06:02PM Hi i have a cichlid that is brownish,purpleish and black spots but the tips of his fins are redish orange he is a male. More
Redtail Botia - Aaron Norman Other Loachs » Redtail Botia Stats Scientific Name: Yasuhikotakia modesta, formerly Botia modesta Family: Cobitidae Size: In the wild they can attain 12 inches, but in More
The Redtail Botia Loach is a bottom-dweller that originates from the streams throughout Asia. The body of this Botia Loach is bluish to silver in coloration, and like other Botia loaches, can be identified by the four pairs of barbels protruding from its mouth area. More
Redtail Botia Loach (Botia modesta)Starting at $7.49IN STOCK Gold Dojo Loach Gold Dojo Loach (Misgurnus anguillicaudatus)Starting at $8.49 Email Me when aquarium fish becomes available Horseface Loach Horseface Loach (Acantopsis choirorhynchus)Starting at $6. More
The Redtail Botia Loach is a semi-aggressive fish that enjoys the company of its own species, or other semi-aggressive fish. It will school with others of the same age and size. More
Common names
Blågrön Botia in Swedish (Svenska)
Blågrønn botia in Norwegian (Norsk)
Bocja szara in Polish (polski)
Cá heo in Vietnamese (Tiếng Việt)
Cá Heo r?ng in Vietnamese (Tiếng Việt)
Cá Heo rứng in Vietnamese (Tiếng Việt)
Grüne Schmerle in German (Deutsch)
Harmaanuoliainen in Finnish (suomen kieli)
Heo v?ch in Vietnamese (Tiếng Việt)
Heo vạch in Vietnamese (Tiếng Việt)
Heo xanh in Vietnamese (Tiếng Việt)
Keeo gai in Lao (ພາສາລາວ)
Keeo gai in Laotian
Orange-finned loach in English
Orangefin loach in English
Pa moo in English
Pa moo in Lao (ພາສາລາວ)
Pa moo in Laotian
Pa mou man in Lao (ພາສາລາວ)
Pa mou man in Laotian
Pa mou mang in Lao (ພາສາລາວ)
Pa mou mang in Laotian
Pba moo mun in Laotian
Pla moo in Thai (ไทย)
Pla moo khao in Thai (ไทย)
Pla moo khaw in Thai (ไทย)
Pla moo lueng in Thai (ไทย)
Pla moo man in Thai (ไทย)
Red-Finned Loach in English
Redtail botia in English
Rødfinnet botia in Danish (dansk)
Rødfinnet Smerling in Danish (dansk)
Trey kanchrouk krawhorm in Khmer (ភាសាខ្មែរ)
Trey kanchrut in Khmer (ភាសាខ្មែរ)
Yellow tailed loach in English
ปลาหมู in Thai (ไทย)
ปลาหมูขาว in Thai (ไทย)
ปลาหมูมัน in Thai (ไทย)
ปลาหมูเหลือง in Thai (ไทย)
橙鰭沙鰍 in Mandarin Chinese
橙鳍沙鳅 in Mandarin Chinese

Custom Search