Bengal loach
These fish are threatened by pesticide used in the cultivation of rice.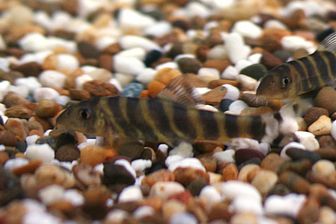 Picture of the Bengal loach has been licensed under a
GFDL
Original source
: self-made. 400D+50/1.4 Author Lerdsuwa
Author
: Lerdsuwa
Permission
: GNU Free Documentation License
The Bengal loach lives in the demersal, freshwater, pH range: 6.5 - 7.5, dH range: 10 environment.
Comment - See Morei have a bengal loach but it hides in a piece of bog wood. Anonymous 2006-06-05 This gorgeous fish comes from Bangladesh and thus is suitably named the Bengal Loach. But we do like its alternate name the "Queen Loach" ... More
The Bengal Loach, or Queen Loach (Botia dario) is a species of loach fish found in the hill streams of Bangladesh. These fish are threatened by pesticide used in the cultivation of rice. More
org, the Bengal Loach will eat 30.6 times its body weight in food each year. They can grow up to six inches in the wild, and perhaps in a large tank, but like most loaches, aquariums may stunt their natural growth. More
Bengal Loaches are a peaceful, quiet, attractive, fish that should be kept in a school of 5 or more. More
Bengal loach ( common name ) let's test your knowledge! Botia dario ( fish name )slovensky , français Share pictures of your fish! Upload them now! * Maximum size in aquariums (min-max): 10 - 15 cm ( More
Common names
Bengal loach in English
Bengalbotia in Norwegian (Norsk)
Bengalsk smerling in Danish (dansk)
Botuk mach in Assamese (অসমীয়া)
Bou mach in Bengali (বাংলা)
Dohser in Khasi
Grüne Bänderschmerle in German (Deutsch)
Indian loach in English
Leiterschmerle in German (Deutsch)
Necktie loach in English
Ngarang in Manipuri
Rani in Bengali (বাংলা)
Rani mach in Bengali (বাংলা)
Sekavka zelenopruhá in Czech (česky)
Stripped loach in English
Vyönuoliainen in Finnish (suomen kieli)
达林沙鳅 in Mandarin Chinese
達林沙鰍 in Mandarin Chinese

Custom Search