Blacktail redhorse
Blacktail Redhorse is a species of ray-finned fish in the genus Moxostoma.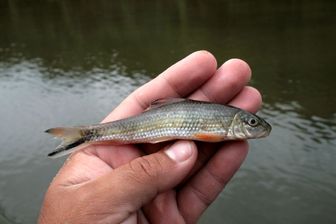 Picture of the Blacktail redhorse has been licensed under a Creative Commons
Attribution
.
Original source
: originally posted to Flickr as Blacktail Redhorse (
Author
: Clinton & Charles Robertson Permission (
The Blacktail redhorse lives in the demersal, freshwater environment.
Status: Blacktail redhorse are abundant in moderate-size streams and large rivers of northwestern Florida and apparently face no immediate threats to their continued existence. More
Characteristics: The blacktail redhorse is characterized by a prominent black or dusky stripe on the lower lobe of its tricolored caudal fin. More
Blacktail - The blacktail redhorse is characterized by a prominent black or dusky stripe on the lower lobe of its tricolored caudal fin. Golden - This terete redhorse has a large head, with a length approximately 24 percent of the standard length. More
The Ecology of Blacktail Redhorse Moxostoma poecilurum in West Fork Thompson Creek, Louisiana Degree Master of Science (M.S. More
Common names
blacktail redhorse in English
Pakaprovec tmavoocasý in Czech (česky)
Sorthalet hestefisk in Danish (dansk)
моксостома мексиканская in Russian (русский язык)
杂色吸口鱼 in Mandarin Chinese
雜色吸口魚 in Mandarin Chinese

Custom Search