Copper redhorse
Its extremely small range, which is restricted to a few rivers in the lowlands of southwestern Quebec, has contracted significantly in the past few decades.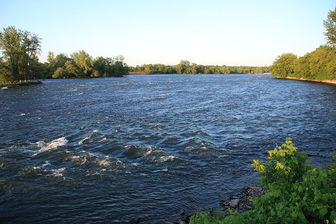 Picture of the Copper redhorse has been licensed under a Creative Commons
Attribution-Share Alike
.
Original source
: Own work Author Cephas
Author
: Cephas
The Copper redhorse lives in the demersal, freshwater environment.
The Copper Redhorse (Moxostoma hubbsi) is a species of ray-finned fish in the Catostomidae family. It is found only in Canada. More
Distribution of the Copper Redhorse in Quebec: distribution map. More
The copper redhorse is one of seven species of the genus Moxostoma (family Catostomidae) occurring in Canada. More
copper redhorse (Moxostoma hubbsi) and detection in plasma and mucus with a heterologous antibody. Fish. Physiol. Biochem., 35: 241-254. More
The Copper Redhorse is found only in Quebec, in several rivers in the St. Lawrence Valley, notably the Richelieu River and a section of the St. Lawrence River located upstream of Lake Saint-Pierre. More
Copper Redhorse interpretive trail (Click on the image above to download a PDF, 1.6MB) For the past 10 years, the Nature Conservancy of Canada (NCC) has been actively working to protect habitat for the threatened Copper Redhorse fish along the Richelieu River. More
The Copper Redhorse is one of the species that uses the fish ladder. It is a rare fish found only in Quebec. In fact, the world's only known Copper Redhorse spawning grounds are located on the Richelieu River. More
The copper redhorse weighs an average of 2 kg and is 50 cm long. Its small head, shaped like an equilateral triangle, is less than one-fifth of its total lengt h. More
and release a Copper Redhorseas part of a tracking research program. (Photo by Daniel Hatin, MRNF) Yves Gagnon may seem like a proud fisherman showing off his catch. More
The copper redhorse is considered to be a threatened species because of its limited geographical distribution, low population density and increasing rarity. It is a large fish belonging to the family Catostomidae. More
The copper redhorse (Catostomidae: Moxostoma hubbsi) is an endangered fish species whose worldwide distribution is limited to the St. Lawrence River and three of its tributaries, in Canada. More
Common names
chevalier cuivré in French (français)
copper redhorse in English
Moxostoma hubbsi in Catalan (Català)
Pakaprovec Hubbsův in Czech (česky)
銅色吸口魚 in Mandarin Chinese
銅色吸口魚 in Unknown
铜色吸口鱼 in Mandarin Chinese
铜色吸口鱼 in Unknown

Custom Search