White Sea herring
Organisms of the species Clupea pallasii manifest a bluish-green dorsal area with silver-white sides and bellies; they are otherwise unmarked.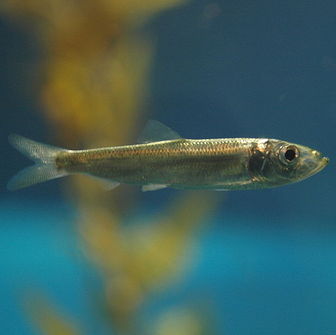 Picture of the White Sea herring has been licensed under a Creative Commons
Attribution-Share Alike
.
Original source
: : http://opencage.info/pics/large_13888.asp
The White Sea herring lives in the pelagic-neritic, non-migratory, marine environment.
Infection of White Sea herring with Anisakis sp larvae Nematoda Anisakinae Infection process of Stenocarpella macrospora on leaves of maize Zea mays Infections sinusitis in wild Turkeys Infectious mononucleosis-like response in common marmosets infected with Epstein-Barr virus More
Dynamics of White Sea herring lervae concentration in Chupa inlet in June 1979 Dynamics of Wolbachia populations in transfected lines of Trichogramma Dynamics of Woody bayhead invasion into seasonal ponds in south central Florida Dynamics of X ray induced reversion in heterogeneous More
White sea herring (Clupea pallasi marisalbi) population structure: Interpopulation variation in frequency of chromosomal rearrangement White small intestinal villi in hypobetalipoproteinemia White smoke emission from a semiconductor manufacturing plant White spot syndrome baculovirus (WSBV) detected in cultured and captured shrimp, crabs and More
Distribution of the White Sea herring in the autumnal-winter season Distribution of the Yakushimazaru Distribution of the abundant bottom-pelagic squids in the south-western part of the Pacific Ocean Distribution of the acaricide perizin in the honeybee (Apis mellifera L. More
Frozen Sea Fish Cod, White Sea Herring, Salmon For Sale Listed in: Home » Ag Products » Frozen Food » Seafood » Fish General Info Post date: More
White Sea herring with Anisakis sp. (Nematoda, Ascaridata). Personal Authors: Kulachkova, V. G. Author Affiliation: Zool. Inst. of the Acad. Sci., 199164 Leningrad, USSR. More
Common names
Belomorskaya sel'd' in Russian (русский язык)
White Sea herring in English

Custom Search