Forktail rainbowfish
According to ITIS, this should be in its own Genus, Popondichthys.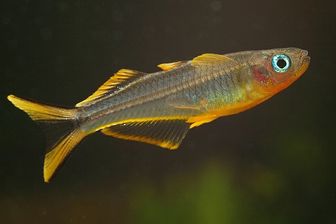 Picture of the Forktail rainbowfish has been licensed under a Creative Commons
Attribution-Share Alike
.
Original source
: Own work Author Dirk Godlinski
Author
: Dirk Godlinski
The Forktail rainbowfish lives in the benthopelagic, freshwater, pH range: 6.0 - 8.0, dH range: 5 - 12 environment.
Forktail rainbowfish ( common name ) let's test your knowledge! Pseudomugil furcatus ( fish name )slovensky , français Share pictures of your fish! Upload them now! * Maximum size in aquariums (min-max): 4 - 5 cm ( More
* Forktail Rainbowfish Dan Simon * Re: Forktail Rainbowfish drews at webgate. More
Common names
Forktail blue-eye in English
Forktail rainbowfish in English
Gabelschwanz-Regenbogenfisch in German (Deutsch)
Gaffelhalet blåøje in Danish (dansk)
Kultasädekala in Finnish (suomen kieli)
Kultasinisilmä in Finnish (suomen kieli)
叉尾鯔銀漢魚 in Mandarin Chinese
叉尾鲻银汉鱼 in Mandarin Chinese
叉沼汉鱼 in Mandarin Chinese
叉沼漢魚 in Mandarin Chinese

Custom Search