Six-lined rainbowfish
The Fly River rainbowfish is a species of fish in the Melanotaeniidae family.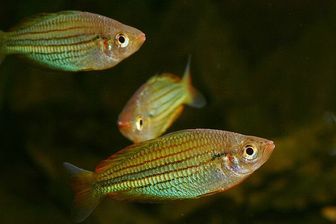 Picture of the Six-lined rainbowfish has been licensed under a Creative Commons
Attribution-Share Alike
.
Original source
: Own work Author Dirk Godlinski
Author
: Dirk Godlinski
The Six-lined rainbowfish lives in the benthopelagic, freshwater, pH range: 7.0 - 7.5 environment.
Nothing known about the Six-lined rainbowfish
Common names
Fly River rainbowfish in English
Fly River-Regenbogenfisch in German (Deutsch)
Juovasateenkaarikala in Finnish (suomen kieli)
Six-lined rainbowfish in English
六带虹银汉鱼 in Mandarin Chinese
六帶虹銀漢魚 in Mandarin Chinese

Custom Search