Lake Wanam rainbowfish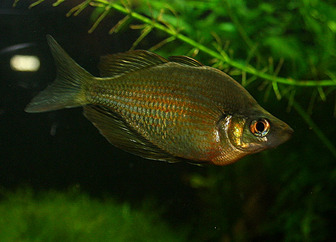 Picture of the Lake Wanam rainbowfish has been licensed under a
GFDL
Original source
: Originally from en.wikipedia; description page is/was here.
Author
: Original uploader was Roan Art at en.wikipedia
Permission
: GNU Free Documentation License
The Lake Wanam rainbowfish lives in the benthopelagic, freshwater, pH range: 7.8, dH range: 10, depth range 10 - 10 m environment.
The Lake Wanam rainbowfish is classified as Critically Endangered (CR), facing an extremely high risk of extinction in the wild.

The Lake Wanam rainbowfish (Glossolepis wanamensis) is a species of fish in the Melanotaeniidae family. It is endemic to Papua New Guinea. Its natural habitat is freshwater lakes. Source - * Allen, G. 1996. More
Lake Wanam Rainbowfish - Glossolepis wanamensisLake Wanam Rainbowfish - Glossolepis wanamensis Lake Wanam Rainbowfish - Glossolepis wanamensis = Lake Wanam Rainbowfish was scientifically described by Allen & Kailola in 1979. Its scientific name is Glossolepis wanamensis. More
Lake Wanam Rainbowfish (Glossolepis wanamensis) Madagascar Rainbowfish (Bedotia geayi) Red Rainbowfish (Glossolepis incisus) Sepik Rainbowfish (Glossolepis multisquamatus) + South American Catfish Adolfo's Cory (Corydoras adolfoi) Agassiz's Corydoras (Corydoras agassizii) Arched Cory More
endemic Lake Wanam rainbowfish was in such low numbers as to cause concern for its future in the wild. More
Lake Wanam rainbowfish Glossolepis wanamensis (aka Emerald Rainbowfish) * Genus Glossolepis * Glossolepis dorityi Allen, 2001. * Red rainbowfish, Glossolepis incisus Weber, 1907. More
Lake Wanam rainbowfish (Glossolepis wanamensis) = Species information - * Facts & Status * Description * Glossary & References More
Lake Wanam Rainbowfish (Glossolepis wanamensis)> * Most Popular * Latest Articles Add to: * iGoogle * My Yahoo! * RSS More
Common names
Glossolepis wanamensis in Breton (brezhoneg)
Lake Wanam rainbowfish in English
Lake Wanam-Regenbogenfisch in German (Deutsch)
Lake Wanam-regnbuefisk in Danish (dansk)
Vihersateenkaarikala in Finnish (suomen kieli)
瓦納舌鱗銀漢魚 in Mandarin Chinese
瓦納舌鱗銀漢魚 in Unknown
瓦讷舌鳞银汉鱼 in Mandarin Chinese
瓦讷舌鳞银汉鱼 in Unknown

Custom Search