Fringebarbel sturgeon
The bastard sturgeon, fringebarbel sturgeon, ship sturgeon, spiny sturgeon, or thorn sturgeon is a species of fish in the Acipenseridae family.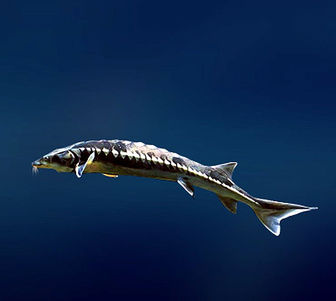 The Fringebarbel sturgeon lives in the demersal, anadromous, freshwater, brackish, marine, depth range 30 - 60 m environment.
The Fringebarbel sturgeon is classified as Endangered (EN), considered to be facing a very high risk of extinction in the wild.

Fringebarbel Sturgeon / Schipp Acipenser nudiventris Fringebarbel Sturgeon / Schipp Acipenser nudiventris 360x270 (23kb) More
* Fringebarbel sturgeon, Acipenser nudiventris * Acipenser oxyrinchus * Atlantic sturgeon, Acipenser oxyrinchus oxyrinchus More
En - Fringebarbel sturgeon, Fr - Esturgeon barbillons frangés, Sp - Esturión barba de flecos. 3Alpha Code: AAN Taxonomic Code: 1170100106 Scientific Name with Original Description Acipenser nudiventris Lovetzsky, A. More
Fringebarbel sturgeon (Acipenser nudiventris) and dwarf sturgeon (P. hermanni) completely disappeared from the river, but may still occur in the system in the Karakum Canal. It is thought that the main reason for their disappearance is the change in the water chemical composition. More
Fringebarbel sturgeon - Acipenser nudiventris Aquatic species Atlantic sturgeon - Acipenser oxyrinchus Aquatic species Amur sturgeon - Acipenser schrenckii Aquatic species Chinese sturgeon - Acipenser sinensis Aquatic species More
Common names
Barbel sturgeon in English
Bastard Sturgeon in English
Biz baligi in Turkish (Türkçe)
Biz balığı in Turkish (Türkçe)
Bogzar in Rumanian
Dick in German (Deutsch)
Esturgeon in French (français)
Esturgeon à barbillons frangés in French (français)
Esturgeon nu in French (français)
Esturión barba de flecos in Spanish (español)
Esturjão-ventre-nu in Portuguese (Português)
Fringebarbel sturgeon in English
Glatstør in Danish (dansk)
Glattdick in German (Deutsch)
Glattdick in Swedish (Svenska)
Gymnoxyrychi in Greek (Ελληνικά)
Gymnoxyrychi in Greek, Modern (1453)
Harmaasampi in Finnish (suomen kieli)
Jeseter hladky in Czech (česky)
Jeseter hladký in Slovak (slovenčina)
Kür kələmosu in Azerbaijani (azərbaycan dili)
Mahi-e Kaviar in Farsi
Mahi-e Kaviar in Persian (‫فارسی)
Schip in German (Deutsch)
Sheap in Farsi
Sheap in Persian (‫فارسی)
Ship in Bulgarian (български език)
Ship in English
Ship in Farsi
Ship in Persian (‫فارسی)
Ship in Russian (русский язык)
Ship sturgeon in English
Ship-Stör in German (Deutsch)
Sim in Serbian (српски језик)
Simatok in Hungarian (Magyar)
Sip baligi in Turkish (Türkçe)
Şip balığı in Turkish (Türkçe)
Spiny sturgeon in English
Stör in German (Deutsch)
Storione glatdick in Italian (Italiano)
Szintok in Hungarian (Magyar)
Szyp in Polish (polski)
Szypr in Polish (polski)
Thorn sturgeon in English
Viza in Hungarian (Magyar)
Viză in Rumanian
Γυμνοξυρύχι in Greek (Ελληνικά)
Γυμνοξυρύχι in Greek, Modern (1453)
шип in Russian (русский язык)
Шип (рыба) in Russian (русский язык)
شيپ in Farsi
ماهي خاويار in Farsi
裸腹鱘 in Mandarin Chinese
裸腹鲟 in Mandarin Chinese

Custom Search