Scaly-breasted Lorikeet
The Scaly-breasted Lorikeet was first described by German zoologist Heinrich Kuhl in 1820. Other names this bird is known by include the Gold and Green Lorikeet, Greenie, Green Lorikeet, Green and Yellow Lorikeet, Green Keet, Green Parrot, Green Leek, Greenie, and Green Leaf. It is often colloquially referred to as a Scaly. Its specific epithet is derived from the Ancient Greek root chloro- green, and Latin lepidotus scaly.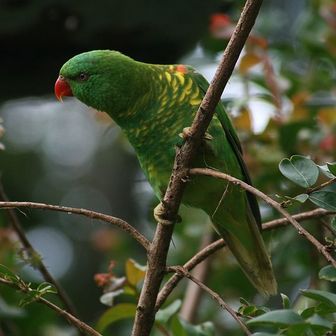 Picture of the Scaly-breasted Lorikeet has been licensed under a Creative Commons
Attribution-Share Alike
.
Original source
: originally posted to IMG_5249.JPG and uploaded to commons as Trichoglossus_chlorolepidotus_-Australia-8a.jpg
Author
: derivative work: Snowmanradio (talk)
The Scaly-breasted Lorikeet is classified as Least Concern. Does not qualify for a more at risk category. Widespread and abundant taxa are included in this category.

The Scaly-breasted Lorikeet (Trichoglossus chlorolepidotus) is an Australian lorikeet found in woodland in eastern Australia. The common name aptly describes this bird, which has yellow breast feathers broadly edged with green that look like scales. Contents - * 1 Taxonomy * 2 Description * 3 Distribution and habitat * 4 Behaviour * 4. More
Scaly-breasted lorikeets fly swiftly and in a straight path. As they pass overhead the sound of their rapid wing-beats can be heard along with their high-pitched call. They frequent most timbered areas and are often seen in gardens and parklands. They often occur in mixed flocks with Rainbow Lories.Both species feed mainly on nectar and pollen, but they also eat blossoms, berries, other fruit, seeds, and insects and their larvae; and are also fond of cultivated fruits. More
Scaly-breasted Lorikeet, Trichoglossus Chlorolepidotus, is a medium sized lorikeet (22cm to 25cm in length). Colour is an overall green, feathers on chest and shoulders edged in yellow giving a scaly appearance, tail green and green/yellow under, blue tinge on head (more prominent in male), underwing red, beak red, eyes red/orange. Young birds have lighter orange beak and light grey ring in eye that develops into an orange ring as they get older. More
The Scaly-breasted Lorikeet's beak and eyes are red, and it is the only lorikeet with an all-green head combined with a red beak. Sexes appear the same, with green upper-wings and body, marked with yellow 'scales' on the breast and neck. In flight, Scaly-breasted Lorikeets have two-tone, red-orange underwings with grey trailing edges. Similar species The Scaly-breasted Lorikeet is similar in size and shape to the Rainbow Lorikeet, T. haematodus, but can be distinguished by its all-green head and body. More
Identification: The scaly-breasted lorikeet has a green head and back, a barred yellow and green chest, red underwing and red bill. Call/Song: Similar, but higher in pitch to the rainbow lorikeet. North-eastern and eastern Australia. Found from Cooktown (Queensland) south through to Sydney. Habitat:This lorikeet prefers eucalypt and open forests. Feeding: Eats pollen, nectar, blossoms, berries and other fruit and seeds. More
immature Scaly-breasted Lorikeet, photographed in Brisbane Image by ozwildlife - Some rights reserved. Scaly-breasted Lorikeet | Trichoglossus chlorolepidotus photo Rainbow and Scaly-breasted lorikeets feeding together at Lone Pine Koala Sanctuary, Brisbane, Queensland. Image by ozwildlife - Some rights reserved. Scaly-breasted Lorikeet | Trichoglossus chlorolepidotus photo Scaly-breasted Lorikeets photographed at Currumbin Sanctuary feeding with the Rainbow Lorikeets Image by ozwildlife - Some rights reserved. More
Previous Slide 1/7 Next Scaly-breasted Lorikeets Can you tell my beak from petals?Scaly-breasted Lorikeets I'll come out a bit more Look how well I can hide among the flowers Sophie magpie is keeping watch I'll come out again for a pose but I will keep moving while Chipkin Noisy-miner arrives Stay tuned by subscribing to the Wild Bird Talking Newlsetter and the WingedHearts Blog. More
Did You Know?The Scaly-breasted Lorikeet has interbred in the wild with the Rainbow Lorikeet. Species Profile Genus: Trichoglossus Species: chlorolepidotus Size: Adult Weight: 23cm (9 in) 75-95g (2.6-3. More
Diet: The scaly-breasted lorikeet feeds on a diet consisting mostly of nectar and pollen from flowering trees and shrubs plus different kinds of fruits and seeds. Reproduction: The natural breeding season is from June to February, and the site chosen is a hole, often very high up, in a tree. Both birds prepare their nesting hollow, nibbling away the decayed wood until the cavity is of a suitable size. 2-3 white eggs are laid and incubated by the female for about 25 days. More
The scaly-breasted lorikeet is easily identifiable with its solid green head plumage and bright red beak; its breast feathers are yellow tipped with green and appear scaly or barred in pattern. These birds inhabit Australia's east coast and live principally off eucalypt and melaleuca species, but they are also known to raid agricultural crops and eat insects. More
The Scaly-breasted Lorikeet is the only lorikeet with an all-green head combined with a red beak. Identification The Scaly-breasted Lorikeet's beak and eyes are red, and it is the only lorikeet with an all-green head combined with a red beak. Sexes appear the same, with green upper-wings and body, marked with yellow 'scales' on the breast and neck. In flight, Scaly-breasted Lorikeets have two-tone, red-orange underwings with grey trailing edges. More
The Scaly-breasted Lorikeet is the cheapest of the Australian Lorikeet, with a mature pair of normals selling in Queensland for around $75AU. Hand reared young birds can be obtained for a similar figure. The Olive Scaly is also quite cheap, probably around $250AU a pair. The species is extremely rare outside of Australia, and overseas pricing is unknown. - Copyright More