Red-capped parrot
First described by German naturalist Heinrich Kuhl in 1820, from a collection in Albany, Western Australia,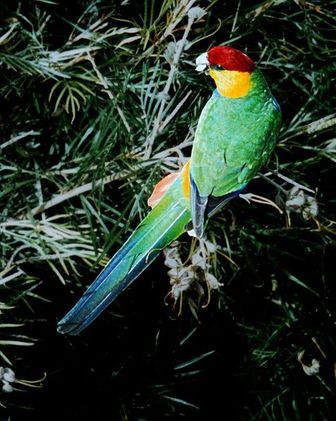 Picture of the Red-capped parrot has been licensed under a Creative Commons
Attribution-Share Alike
.
Original source
: Photo taken by Bradford Jones, WikiCommon with his explicit permission.
The Red-capped parrot is classified as Least Concern. Does not qualify for a more at risk category. Widespread and abundant taxa are included in this category.

collection in Albany, Western Australia, the Red-capped Parrot was placed in the monotypic genus Purpureicephalus by Charles Lucien Bonaparte in 1854. The generic name is an amalgam of the Latin purpureus "purple", and the Ancient Greek kephalos "head". The specific epithet spurius is the Latin adjective meaning "illegitimate", and refers to the very different adult and immature plumages (hence appearing unrelated). Besides Red-capped Parrot, vernacular names include Pileated Parrot, Western King Parrot, Purple-crowned Parrot, Grey Parrot or Hookbill. More
Results for: red-capped parrotTranslations 1 - 30 of 274 English English Finnish Finnish red-capped parrot sateenkaarikaija, Purpureicephalus spurius yellow-capped pygmy parrot sammalkaijanen, Micropsitta keiensis capped päällystetty parrot papukaija red-fan parrot haukka-aratti, Deroptyus accipitrinus red-capped robin punaotsasieppo, Petroica goodenovii red-capped plover ruosteniskatylli, Charadrius ruficapillus More
The following is a photograph of a male Red-capped Parrot at Bungendore State Forest near Armadale in January 2001. More
The Pileated Parrot or Red-capped Parrot (Pionopsitta pileata) is endemic to north-eastern Argentina, South-eastern Brazil and Paraguay, where it can be found in subtropical or tropical moist lowland forests and subtropical or tropical moist montane forest areas. NOTE: The Australian Red-capped Parrot (Purpureicephalus spurius) is also called the Pileated Parakeet, which leads to an easy confusion with the South American Pionopsitta pileata featured on this page. More
The Red-capped Parrot is a broad-tailed parrot related to the Rosellas that can be found in the southern parts of Western Australia. Their preferred habitat include eucalypt forests and woodland areas, farmland with stands of trees, as well as parks and gardens. Description The Red-capped Parrot averages 35 - 37cm or 14 - 14.6 inches in length, including its tail; and its weight ranges from 105 - 156g or 3.6 - 5.5 oz. More
The Red-capped Parrot inhabits the south-western corner of Australia, in close association with the marri tree Eucalyptus calophylla, which provides both nesting hollows and food. The bird More
The Red-capped Parrot lives in the southern parts of Western Australia, where it is a common bird of eucalypt forest and woodlands, treed parks and gardens. Adult males have a crimson cap, yellow-green cheeks and rump and a purplish-blue breast. The back and tail are green. Females are generally duller and most have a violet-grey breast. More
The male Red-capped Parrot is dark green with red cap on head, lime green cheeks and rump, pale purple chest, with red under the tail. The female is duller with greyish mauve underside, and may have some green on crown. More
Did You Know?The elongated upper mandible of the Red-capped Parrot is adapted for dislodging the marri plant's large seeds, which are removed as the fruit is held in the bird's foot and rotated to and fro. Species Profile Genus: Purpureicephalus Species: spurius Size: Adult Weight: 37cm (14.4 in) 105-156g (3.6-5. More
The Red-capped Parrot, also called the King Parrot locally in Western Australia, is an Australian species of broad-tailed parrot related to the Rosellas. References - * BirdLife International (2004). Purpureicephalus spurius. 2006 IUCN Red List of Threatened Species. IUCN 2006. Retrieved on 11 May 2006. Database entry includes justification for why this species is of least concern This article relating to parrots is a stub. More
The Red-capped Parrot, also called the King Parrot locally in Western Australia, is an Australian species of broad-tailed parrot related to the Rosellas. More