Malabar Parakeet
They breed in the dry season after the northeast Monsoon and the chicks fledge before the southwest Monsoon in June. They nest in holes in trees, especially old woodpecker and barbet nests. The birds begin breeding in December and eggs are laid in December and January. The usual clutch was 4 eggs which hatch after about 23 days. The female initially broods with the male bringing food and later the male takes over. The chicks fledge in about a month and leave the nest. Chicks are sometimes trapped for trade.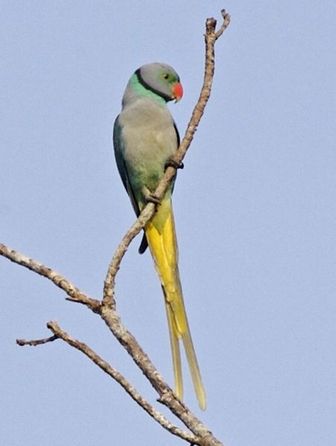 Picture of the Malabar Parakeet has been licensed under a Creative Commons
Attribution-Share Alike
.
Original source
: originally posted to Flickr as Malabar Parakeet (Psittacula columboides) and uploaded to commons as Psittacula_columboides_(male)_-Kerala_-India-8.jpg
Author
: derivative work: Snowmanradio (talk)
The Malabar Parakeet is classified as Least Concern. Does not qualify for a more at risk category. Widespread and abundant taxa are included in this category.

biology of the Malabar Parakeet Psittacula columboides in the Siruvani foothills, Tamil Nadu, India". Forktail 13: 138–139. http://www.orientalbirdclub.org/publications/forktail/19pdfs/Gokula-Malabar.pdf. * BirdLife International (2004). Psittacula columboides. 2006. IUCN Red List of Threatened Species. IUCN 2006. www.iucnredlist.org. Retrieved on 11 May 2006. More
* Malabar Parakeetedited by Avin ExploreCEOattachment from Avin ExploreCEO * Homeedited by Avin ExploreCEO * Rose-ringed Parakeetcreated by avin * Malabar Parakeetcreated by avin * View All Home This is the sister website to the Indian parakeets yahoo group. More
Malabar Parakeet is known to raid crops in some areas and can be injurious to orchards, they are considered pests in some locations. These parakeets are social birds and live in small groups composed of four to five individuals. On rare occasions they may be observed in small flocks. They are fairly noisy and are often heard before they are seen. They generally make their homes atop tall trees in humid deciduous and evergreen forests. More
Wild Malabar Parakeet (Psittacula columboides) at nest hole © Stefan Behrens Pair of Malabar Parkeets in captivity © Anthony Snell Malabar Parakeet (Psittacula columboides) © Zahir T. Rana | http://www.psittaculaworld.com Malabar Parakeet (Psittacula columboides) © Zahir T. Rana | http://www.psittaculaworld.com Malabar Parakeet (Psittacula columboides) © Zahir T. Rana | http://www.psittaculaworld. More
Malabar Parakeet is about 38-40cm in size. It has blue primaries and a yellow tip on the tail. The female has a black beak and the male red. The male also has a blue-green collar. Call - Harsh, raucous call Distribution - P.columboides%20origin.jpg Southwest India, North of Bombay South to Kerala. More