Dusky Lory
The Dusky Lory is short tailed parrot about 25 cm long. It is mainly brown and has a whitish back and rump. It has two colour phases; the band across the upper chest together with its abdomen are either yellow or orange. The beak is dark orange and there is an area of bare orange skin at the base of its lower mandible. The irises are red and the legs are grey. The male and females are identical in external appearance. Juveniles are duller with a yellowish back and rump, yellowish-grey irises, and a beak that is yellow at the base and brown/black towards the tip.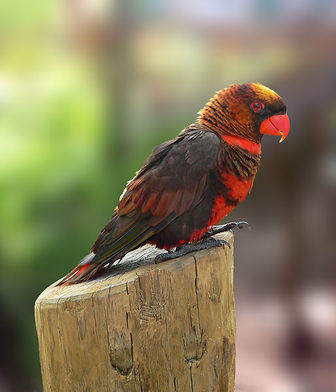 Picture of the Dusky Lory has been licensed under a Creative Commons
Attribution-Share Alike
.
Original source
: Own work
Author
: Photo by Greg Hume (Greg5030)
The Dusky Lory is classified as Least Concern. Does not qualify for a more at risk category. Widespread and abundant taxa are included in this category.

The Dusky Lory (Pseudeos fuscata) is a monotypic species of parrot in the Psittacidae family, and the only species of the genus Pseudeos. Alternative common names are the White-rumped Lory or the Dusky-orange Lory. It is found in Indonesia and Papua New Guinea. More
Dusky Lory from the backPositive aspects of lory ownership ... Lories are popular companion birds due to their intelligence, entertaining personality and stunning beauty. Most stay tame, even in maturity. They are affectionate, curious, extroverted and clowny and exhibit some unique behaviors. Some like to wrap themselves up in a blanket for sleeping. At times, they can even be seen sleeping on their backs. More
License Plate Frame £12 Love Dusky Lory License Plate Frame got parrots? Dusky Lories License Plate Frame £12 got parrots Dusky Lories License Plate Frame Dear Santa Dusky Lory Christmas Magnet £3. More
Did You Know?The Dusky Lory roosts communally in groups of up to a thousand birds. Species Profile Genus: Pseudeos Species: fuscata Size: Adult Weight: 25cm (9.75 in) 140-190g (5-6. More
Dusky LoryRed eastern or golden mantled rosellaElectus ParrotElegant Grass ParrakeetFischer's lovebirdGang Gang CockatooGoffini's or Goffins CockatooGolden-crowned or Peach-fronted conureGolden-fronted or Mountain parrakeetGreat Palm CockatooGreen Cheeked Amazon Parrot or Mexican Red-headed ParrotGreen-winged or Marron MacawGreater Sulphur Crested CockatooHawk Headed ParrotHyacinth MacawIlliger's MacawJendaya, Jenday or Yellow-headed conureLeadbeater's, or Major Mitchell's CockatooLilac- Crowned Amazon ParrotLesser Sulphur Crested CockatooMadagascar lovebird or Gray-headed lovebirdRed-bellied or Maroon-bellied conureMasked, White eye-ring, or Yellow-collared lovebirdMaximilian's or Scaly-headed ParrotMeyers ParrotMilitary or Great Green MacawMoluccan CockatooBanded, Pink-breasted, or Mustache parrakeetNandaya, Nanday, Black-headed or Black-masked conureOrnate LorikeetPatagonion conurePeach-faced or Peachface lovebirdPetz's or Orange-fronted conurePlum-headed or Plumheaded parrakeetPrincess of Wales parrakeet or Princess ParrotPurple capped or Purple naped LoryQuaker, Monk or Gray-breasted parrakeetQueen's, Bavaria's or Golden conureSwainson's, Rainbow, or Blue Mountain LoryRed-faced or More
Find quality dusky lory shirts in styles, colours and sizes for all people on your list. Can't find the perfect dusky lory tee shirt? It's simple to customize your own tee shirt by adding photos, images and text. For more products, visit our dusky lory gifts page now. Or try making your own personalized t-shirts. Most orders include delivery within 24 hours, and all orders come with a 100% satisfaction guarantee. More
We carry a variety of Dusky Lory gifts for bird owners, including t-shirts and mugs. Choose a section below to see more products. Dusky Lories are hard to find in the pet trade, though they make a flashy outdoor aviary companion. Lories eat liquid diets, which makes their care a bit different from the traditional macaw or cockatoo. More
photo of Dusky Lory* Scientific Name: Pseudeos fuscata (Click on photo to enlarge) * Common Name/s: DUSKY LORY * Sub Species in country / area of origin: None, but has two colour phases - yellow and red. * Origin / Distribution: New Guinea and some islands. * Habitat In Wild: Possibly nomadic, occupying diverse habitats including plantations and urban areas. More
Dusky Lory (Orange Phase) in captivity © Steve Milpacher Dusky Lory (Orange phase) © Steve Milpacher Wild Dusky Lory, Yapen Island, Indonesia © Mehd Halaouate | http://www.indonesien.nu/indonesieneng/index.shtml Wild Dusky Lory, Yapen Island, Indonesia © Mehd Halaouate | http://www.indonesien.nu/indonesieneng/index.shtml Orange morph Dusky Lory © Robert | http://www.pbase. More
Dusky Lory Products (Displaying 1 - 30 of 62) displayName displayName displayName I Love Dusky Lories cards I Love Dusky Lories Cute Birdorable Dusky Lory mousepads Cute Birdorable Dusky Lory I Love Dusky Lories mousepads I Love Dusky Lories I Love Dusky Lories buttons I Love Dusky Lories Cute Birdorable Dusky Lory buttons Cute Birdorable Dusky Lory Cute Birdorable Dusky Lory buttons Cute Birdorable Dusky Lory I Love Dusky Lories keychains More
colored bird called Dusky Lory is native to Indonesia and Papua New Guinea. Its natural habitats are subtropical or tropical moist lowland forest, subtropical or tropical mangrove forests, and subtropical or tropical moist mountains. 6. Golden Conure (Guaruba guarouba) Image Source Another species with superb bright coloration is the Golden Conure also known as the Golden Parakeet or the Queen of Bavaria Conure. More
* Dusky Lory in the red phase - I think... Dusky Lory in the red phase -... * dusky lories, busch gardens dusky lories, busch gardens * New Year's baby Brandy, blue-streaked lory, ready to eat her formula New Year's baby Brandy, blue-s... More
Current Availability for Dusky Lory - No Records Found Search Options Showing Species With By In Available Birds © 2003-2005 BirdBreeders.com LLC. All Rights Reserved. More
The Dusky Lory (Pseudeos fuscata) is a species of parrot in the Psittacidae family. pets No dusky lory pets yet! pictures No dusky lory pictures yet! videos No dusky lory videos yet! owners No dusky lory owners yet! blogs No dusky lory blogs yet! This article is licensed under the GNU Free Documentation License. More
choices, drop by the dusky lory gifts section (or make your own custom buttons). At CafePress, your buttons also come with a 100% satisfaction guarantee, while most orders ship within 24 hours. I Love My Dusky Lory Cartoon 2.25" Button £3.50 I Love My Dusky Lory Button (Cartoon) dusky lory Mini Button £2 dusky lory Mini Button Also available... 3.5" Button (100 pack)£192.503.5" Button (10 pack)£31... More
The Dusky Lory can be found throughout New Guinea, Western Papuan Islands and Japen Island. These birds feed on nectar, pollen and fruits. They grow to be about 10 inches long and are commonly referred to as the "Halloween" bird because of their orange and brown colors. Books: Parrots: A Guide to Parrots of the World For backyard feeders: try Birds-Out-Back. Canon EOS 10D ,Canon EF 70-200mm f/2.8L IS USM 1/125s f/5.6 at 200. More
Dusky Lory There are several varieties of this small sized bird. The most common variety is the Rainbow Lory. The forehead and front of the crown are bluish mauve, with the coloration extending down on the front of the cheeks. The rest of the head is brownish black, while the neck is a yellowish green, the breast is basically red, with bluish black edging. More
Dusky Lory Auction 1 (Female) Listing # 2891 Go back Go back IMAGE THUMBNAILS Click on a picture to enlarge or download file. More
The Dusky Lory lives in Indonesia and Papua New Guinea. It feeds on sweet fruits, nectar and pollen. This bird is very gregarious. It forms large groups that get together at sunset. During the day, they can travel long distances, looking for food. This picture was taken in the Attica Zoological Park, Athens, Greece, in July 2008. More
The Dusky Lorikeet, or Dusky Lory, is a type of parrot. These little birds are native to Indonesia and Papua New Guinea. This is our totally cute Birdorable Dusky Lory!$25.00 Size: Size Chart Color: Quantity: http://www.birdorable.com/gifts/designs/birdorable-dusky-lory/362643234/$25.00Birdorable Dusky Lory Light T-Shirthttp://images4.cafepress.com/product/362643234v4_480x480_Front_Color-Natural.jpg Availability: In Stock Product Number: 030-362643234 About this Light T-Shirt This durable, high-quality, pre-shrunk 100% cotton t-shirt from is what to wear when you want to go comfortably casual. More
You are browsing through zazzle's Dusky Lory mesh hat section where you can find many styles and colors of Dusky Lory trucker hats available for customization or ready to buy as is. Some of the popular colors available are black, blue, green, hot pink, red, brown, all white, and yellow. There is no minimum order size and many trucker hat designs can be customized with your own designs and text. To see some of the other products available on zazzle.com, check out our main Dusky Lory gifts page. More