Western Rosella
Western Rosellas socialise in pairs but will often congregate in largish groups of twenty or so to forage when the season permits; their diet is herbivorous, consisting mostly of grass and seeds. They nest mostly in hollow tree trunks usually a meter or so deep and will favour hollows that have dust in the bottom . The female incubates the eggs and leaves in the morning and afternoon to eat food found by the male.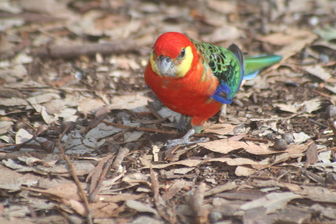 Picture of the Western Rosella has been licensed under a Creative Commons
Attribution
.
The Western Rosella is classified as Least Concern. Does not qualify for a more at risk category. Widespread and abundant taxa are included in this category.

The Western Rosella has a distinctive juvenile plumage. Ideally hens should be 18 months of age or older before attempting breeding. * Lifespan (estimate): approx. 15 or more years * Sexing: Monomorphic / Dimorphic. The adult Western Rosella is dimorphic and therefore easily sexed. * Mutations: Yes * Availability: Bird dealers. More
The Western Rosella is the only rosella with yellow cheek patches; others have white or blue patches. Facts and figures Research Species: No Minimum size: 25 cm Maximum size: 30 cm Average size: 27 cm Average weight: 65 g Breeding season: August to December Clutch size: Four to five. More
the blue-cheeked species, and Western Rosella, all have a distinctive green-based plumage, while immature plumage of the white-cheeked species is merely a duller version of the adults. Distribution and habitat - Rosellas are native to Australia and nearby islands, where they inhabit forests, woodlands, farmlands, and suburban parks and gardens. They are confined to the coastal mountains and plains and are absent from the outback. More
Western Rosellas socialise in pairs but will often congregate in largish groups of twenty or so to forage when the season permits; their diet is herbivorous, consisting mostly of grass and seeds. They nest mostly in hollow tree trunks usually a meter or so deep and will favour hollows that have dust in the bottom (as may be created by insects boring out the tree or limb). The female incubates the eggs and leaves in the morning and afternoon to eat food found by the male. More
No Red Backed Western Rosella Parrots found Classifieds - No Red Backed Western Rosella Parrots classifieds found Adoptable Red Backed Western Rosella Parrots - No adoptable Red Backed Western Rosella Parrots found Members - * See all No members found Testimonials - * Post New No one More
accepted is that the Western Rosella is most distantly related to all other forms, and that the blue-cheeked and the white-cheeked taxa form monophyletic lineages. The arrangement in the taxobox presents the forms as separate species, the version below lumps the disputed forms into P. elegans and P. adscitus. * Genus Platycercus * Western Rosella, Platycercus icterotis * P. i. More
The Western Rosella The Western Rosella is also known as the Stanley Rosella or Yellow Cheeked Rosella. They are the only Rosella Parrot with yellow cheek patches. They are the smallest Rosella measuring between 24 to 30 centimetres in length, the males are red from the head to the breast, while the females and juveniles are mottled red, with a white or yellow cheek patch and blue and green wings. They eat the seeds of grasses and plants, fruits, flowers, insects. More
The Western Rosella (Platycercus icterotis) is also known as the Stanley Rosella, Earl of Derby's parakeet or Yellow-cheeked parakeet. Distribution: It is the smallest species of rosella and is indigious to the coastral areas of South-western Australia. Description: Western Rosellas average 25 - 26 cm or 10 inch in length - including the long tail. This Rosella has a vividly colorful plumage. The head, breast, abdomen and under tail-coverts are red. More
Stanley's, Yellow-cheeked, or Western RosellaSun conureThick-billed ParrotTovi, Bee-bee or Orange-chinned parrakeetTurquoise or Turquoisine parrakeetUmbrella CockatooVernal Hanging ParrakeetVinaceous Amazon ParrotViolet necked or Violet naped LoryWhite bellied or White breasted CaiqueWhite-eared conureWhite-eyed conureYellow-cheeked Amazon parrotYellow-collared, Yellow-naped or Cassin's MacawYellow Fronted Amazon ParrotYellow Streaked Lory More
Western Rosella Size: 26cm Habitat: Found only in Southern Western Australia, this bird inhabits open forests, sparse woodlands and farmlands. Feeds on grass seeds foraged off the ground. Notes: Male: Red head, chest and belly, yellow cheeks, green and blue wings. Female: green head, red/green chest and belly, green and blue wings. BreedsWinter-Spring. For more information on Western Rosella see references. Images have been uploaded in low resolution for storage efficiency, ( they do not reflect the true image quality). More
Home > Western Rosella/Stanley Rosella - Platycercus Icterotis (9.8") Western Rosella/Stanley Rosella - Platycercus Icterotis (9.8") = Western Rosella/Stanley Rosella - Platycercus Icterotis (9.8")Western Rosella/Stanley Rosella - Platycercus Icterotis (9.8")Western Rosella/Stanley Rosella - Platycercus Icterotis (9.8")Western Rosella/Stanley Rosella - Platycercus Icterotis (9.8")Price: $245.00Identifications:They are red from the head to the breast with white or beige-ish yellow cheeks and blue and green patterned wings with males being slightly larger and having a more vibrant yellow cheek colouring. More
Did You Know?The Western Rosella is the only Rosella to have yellow cheeks. The other species of this group have either white or blue cheeks. Status in the Wild World Population: Above 100,000 Range: P.i. icterotis: Coastal and subcoastal SW Western Australia. P.i. xanthogenys: Interior of SW Western Australia. More
Western Rosellas make reasonable pets however they have a habit of being aggressive if kept with other pets. They are largely sociable with humans and will whistle in return if whistled at. Notes - 1. ^ Platycercus / Barnardius - Rosellas. Avian Web (2006). Retrieved on 2007-02-08. 2. ^ Platycercus icterotis (Kuhl 1820) - Western Rosella. Lexicon of parrots. Retrieved on 2007-02-08. More