Geelvink Pygmy Parrot
Its natural habitats are subtropical or tropical moist lowland forests and rural gardens. It is threatened by habitat loss.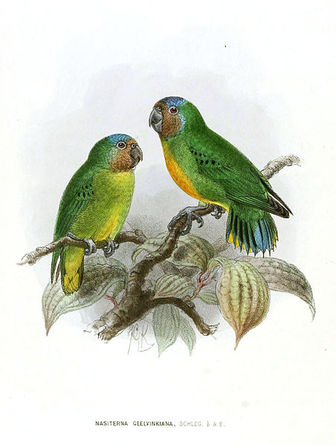 The Geelvink Pygmy Parrot is classified as Near Threatened (NT), is close to qualifying for or is likely to qualify for a threatened category in the near future.

Images Geelvink pygmy parrot perched on branch Geelvink pygmy parrot perched on branch Species related by - * Family group * Habitat * Conservation status * * View image slideshow * Link to this image * Email to a friend * More
Geelvink pygmy parrot perched on branch Geelvink pygmy parrot perched on branchPrint factsheet Facts - Also known as: Geelvink pygmy-parrot Spanish: Microloro De Geelvink Kingdom Animalia Phylum Chordata Class Aves Order Psittaciformes Family Psittacidae More