Yellow-bibbed Lory
The Yellow-bibbed Lory is 28 cm long. It is mostly red with black on top of head and green wings. It has a yellow transverse band on upper chest and a crescent-shaped black patch on each side of neck. It has blue thighs and dark-grey legs. It has an orange-red beak, dark-grey eyerings, and orange pupils.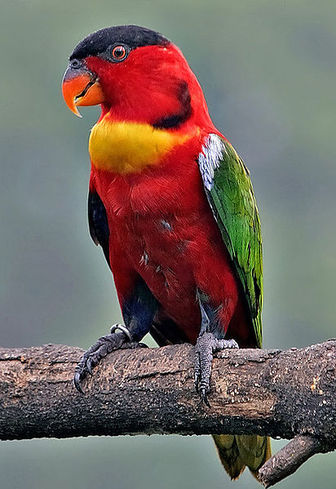 Picture of the Yellow-bibbed Lory has been licensed under a
GFDL
Original source
: Own work
Author
: Doug Janson
Permission
: GNU Free Documentation License
The Yellow-bibbed Lory is classified as Least Concern. Does not qualify for a more at risk category. Widespread and abundant taxa are included in this category.

The Yellow-bibbed Lory (Lorius chlorocercus) is a monotypic species of parrot in the Psittacidae family. It is endemic to the Solomon Islands. Contents - * 1 Description * 2 Range and habitat * 3 References * 4 Cited texts Description - The Yellow-bibbed Lory is 28 cm (11 in) long. More
If you are considering a Yellow-bibbed Lory for your aviary or as pet, please consider the following ... Lories are typically quite easily bred, so many lory species are readily available. Their expected lifespan is 28+ years, provided their specific dietary needs are met. They reach maturity at 8 months or later. Males and females look alike and breeders depend on DNA or endoscopic sexing to determine their gender. More
Yellow-bibbed Lory is fairly common in the wild and abundant throughout most of its range. It is listed on CITES II and is considered a Birdlife International "restricted-range" species, which means that, while the species is abundant in numbers, the range of the species is limited and could be easily threatened. The Yellow-bibbed Lory is mainly a red bird with a black head. More
Yellow-bibbed Lory calls, including imitation of Todiramphus chloris Lorius chlorocercus (0:45) Niels Krabbe XC32873 19-11-2006, Solomon Islands Yellow-bibbed Lory flight call and calls from perch Lorius chlorocercus (0:13) Niels Krabbe XC32874 20-11-2006, Solomon Islands Yellow-bibbed Lory flight call and calls from perch Lorius chlorocercus (0:34) Niels Krabbe XC32875 20-11-2006, Solomon Islands More
Cute Birdorable Yellow-bibbed Lory Tee Shirt by BirdorableParrotsThis is our Birdorable version of the Yellow-bibbed Lory, a beautiful red parrot with black forehead native to Papua New Guinea and the Solomon Islands. This parrot is too cute! This will make a great gift for parrot lovers and lory pet owners. *Dashed line denotes design area and will not appear on the actual shirt. Loading High Resolution...Loading High Resolution...Loading High Resolution...Loading High Resolution...Loading High Resolution...Loading High Resolution...Loading High Resolution...Loading High Resolution... More
Yellow-bibbed lory by IngeHG(in Holland). View Large On Black In the Lory Loft aviary at the Jurong Bird Park Singapore. Have a great and colourful weekend ! To take full advantage of Flickr, you should use a JavaScript-enabled browser and install the latest version of the Macromedia Flash Player. More
Did You Know?The Yellow-bibbed Lory has a high capacity for mimicry. More
The Yellow-bibbed Lory is a beautifully bright-red parrot with a black forehead and yellow band on the chest. These lories can be found in Papua New Guinea and the Solomon Islands where they live in tropical lowland forests. More
Yellow-bibbed Lory Show machine tags (0) Hide machine tags (0) Additional Information All rights reserved Anyone can see this photo * * Taken with a Pentax K100D. More properties * Taken on October 16, 2008 * Viewed 98 times Add to your map Yay location removed ... More
Yellow-bibbed Lory,Lorius chlorocercus , is a large lory up to 33cm in length. It is an overall red colour with green wings, green tail, black cap and black neck patches, and a distinctive yellow bib. Eyes are light brown, beak is large and orange with black near nostrils, thighs white/blue/green/black and feet black. (Female has more green in thighs with male more blue) - We have eight Yellow-bibbed Lories. More
Did You Know?The Yellow-bibbed Lory has a high capacity for mimicry. Status in the Wild World Population: 10,000-50,000 Range: E Solomon Islands, from Savo and Guadalcanal to San Cristobal and Rennell. Habitat: Found up to 1000m (3280 ft) in forest canopy and secondary growth. Also found around coconut plantations. Threat Summary: No threats at present. More
Yellow-bibbed lory - Solomon Islands Yellow Streaked lory - Southern New Guinea Aru Islands. What Lories and Lorikeets are available in New Zealand? = Recently several Lory-Link members asked this very question to try and establish what we had as breeding stock in New Zealand. More
Lorius chlorocercus Yellow-bibbed lory photographed in the Marovo Province, Solomon Islands Lorius chlorocercus Yellow-bibbed lory photographed in the Marovo Province, Solomon Islands Phigys solitarius Collared lory Phigys solitarius Collared lory or kula, Wakaya Island, Fiji Phigys solitarius Collared lory or kula, Wakaya Island, Fiji Trichoglossus haematodus Rainbow lorikeet Trichoglossus haemotodus Rainbow lorikeet (captive specimen) More
Yellow-bibbed Lory (Lorius chlorocercus) by Niels Krabbe from Solomon Islands XC32879 :: Yellow-bibbed Lory (Lorius chlorocercus) = Recording data Recordist Niels Krabbe Date 02-12-2006 Time 13:50 Country Solomon Islands Location Baranaigasi Ridge, Makira Longitude E161. More