Short-tailed Parrot
The closest relative is the Yellow-faced Parrot and the members of the genus Pionus.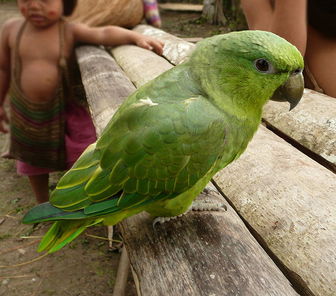 Picture of the Short-tailed Parrot has been licensed under a Creative Commons
Attribution
.
Original source
: originally posted to Flickr as Pajaro and uploaded to commons as Peruvian_Indians_with_Short-tailed_Parrot-6.jpg
Author
: derivative work: Snowmanradio (talk)
The Short-tailed Parrot is classified as Least Concern. Does not qualify for a more at risk category. Widespread and abundant taxa are included in this category.

Graydidascalus brachyurus, the Short-tailed Parrot, is the only species of the genus Graydidascalus and is found along both sides of the Amazon river in Brazil, Colombia, Ecuador and Peru. The closest relative is the Yellow-faced Parrot (Salvatoria xanthops) and the members of the genus Pionus. The species is considered safe at the moment. References - 1. ↑ 1.0 1.1 BirdLife International (2004). Graydidascalus brachyurus. More
The Short-tailed Parrot (Graydidascalus brachyurus) is the only species of the genus Graydidascalus. It is found along both banks of the Amazon river and other major Amazonian rivers in Brazil, Colombia, Ecuador and Peru. As suggested by its range, it is associated with the specific forest and woodland types growing near major rivers, although it also extends into the coastal deltas of French Guiana and Amapá, Brazil. More
Short-tailed ParrotPlease note that parrots from the Poicephalus family are also commonly referred to as "Short-tailed Parrots" - The Short-tailed Parrot (Graydidascalus brachyurus) is the only species of the genus Graydidascalus. The closest relative is the Yellow-faced Parrot (Salvatoria xanthops) and the members of the genus Pionus. More
Did You Know?The Short-tailed Parrot is known as one of the noisiest parrots in the Amazon basin, with its calls being detected at considerable distance. Status in the Wild World Population: Not recorded Range: SE Colombia, NE Ecuador and NE Peru east along Amazon River to coastal Amapa, N Brazil, and French Guiana. More
Short-tailed Parrot in the wild © Nick Athanas Profile of Short-tailed Parrot (Graydidascalus bracayurus) © Jonker/Innemee Araproject | http://www.araproject.nl Profile of Short-tailed Parrot (Graydidascalus bracayurus) © Jonker/Innemee Araproject | http://www.araproject.nl Page 1 of 1 pages Copyright © 2008 World Parrot Trust - All rights reserved. More