Yellow-faced Parrotlet
It is treatened by habitat loss and trapping for the wild bird trade. The latter caused a rapid decline in the 1980s, but following a ban, the numbers appear to have stabilised, although at a very low number, with less than 1000 individuals remaining in the wild.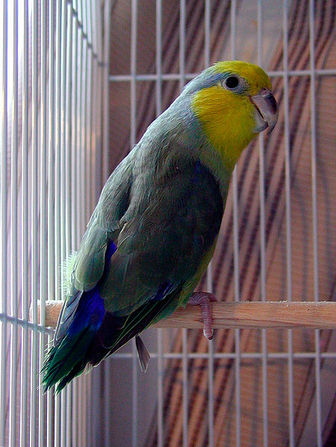 Picture of the Yellow-faced Parrotlet has been licensed under a Creative Commons
Attribution
.
Original source
: Ruth Rogers
Author
: Ruth Rogers
The Yellow-faced Parrotlet is classified as Vulnerable (VU), considered to be facing a high risk of extinction in the wild.

Yellow-faced Parrotlet are also fairly common pets. Their popularity as pets has grown due to their small size and large personalities. Parrotlets are commonly known as playful birds that enjoy chewing as much as their larger Amazon counterparts. Being highly intelligent and active parrots, parrotlets must have ample opportunities to play and exercise. Environmental enrichment must be made a part of their lives as to prevent boredom. More
The Yellow-faced Parrotlet (Forpus xanthops) is a species of parrot in the Psittacidae family. It is endemic to dry woodland, riparian thickets and scrub in the Marañón Valley in northern Peru. It is treatened by habitat loss and trapping for the wild bird trade. The latter caused a rapid decline in the 1980s, but following a ban, the numbers appear to have stabilised, although at a very low number, with less than 1000 individuals remaining in the wild. More
Yellow-faced parrotlets are the largest of the Forpus family, weighing around 50g and measuring closer to 6 inches in length. Both males and females have blue on their rumps, wings and eyestreaks, but much more pronounced in the male. As their name implies, their faces are yellow, and their green coloring is more yellowish and greyish than the Pacific. They have a pronounced vertical dark streak on their upper mandibles. More
Images previous Yellow-faced parrotlet imageYellow-faced parrotlet pair at the top of a tree © Charles Hessenext Yellow-faced parrotlet imageYellow-faced parrotlet pair at the top of a tree Species related by - * Family group * Habitat * Conservation status * * View image slideshow * Link to this image * Email to More
For the purposes of our bird news services, Yellow-faced Parrotlet is classed as ungraded: species which are unlikely to appear as wild birds in Britain or Ireland (Note that rarity levels are currently applied nationally and may not reflect local variations in abundance. More
Yellow-faced Parrotlets are known by some American breeders to be a variety of the Pacific Parrotlet. Some European breeders believe them to be a species by themselves. The reference materials vary. More
Yellow-faced Parrotlets are known by some American breeders to be a variety of the Pacific Parrotlet. Some European breeders believe them to be a species by themselves. Dusky-Billed Parrotlet (Forpus sclateri) Other Names: Sclater's Parrotlet, Schomburgh's Parrotlet. Variation: F. c. eidos Characteristics: 12 cm (4 3/4") Plumage/Body: The male is emerald green, with greater flight feathers and greater wing coverts dark green. More
Yellow-faced Parrotlet on cactus Credit: © Nik Athanas photos Photos videoVideo 1 eNewsletter SIGNUP FOR EMAIL UPDATES Did You Know?Parrotlets were kept in France as long ago as 1682. Species Profile Genus: Forpus Species: xanthops Size: Adult Weight: 14.5cm (5.6 in) 35g (1. More
Yellow-faced Parrotlet on cactus © Nik Athanas Yellow-faced Parrotlet on cactus © Nik Athanas Page 1 of 1 pages Copyright © 2008 World Parrot Trust - All rights reserved. More
Yellow-faced Parrotlet, Northern Peru, Near Balsas, Maranon Valley August 2005 © Colin Bushell - TOUCAN BIRDING TOURS Neotropical Birding Tours - website updated December 2005 Yellow-faced Parrotlet - Yellow-faced Parrotlet, Northern Peru, Maranon Valley 11 July 2006 © Colin Bushell - TOUCAN BIRDING TOURS South America Birding Blog Yellow-faced Parrotlet - Yellow-faced Parrotlet, Peru, Balsas, Rio Mara�on August, 2006 © Gary Rosenberg More