Horned Parakeet
The Horned Parakeet lives humid pine forests on New Caledonia, especially when Agathis and Araucaria pines are present. They live in pairs or small flocks and forage for seeds and nuts in the canopy. It nests both on the ground and in trees.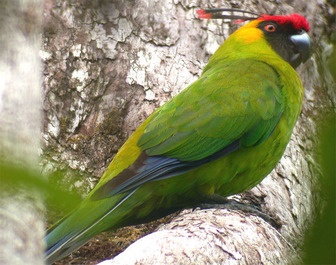 Picture of the Horned Parakeet has been licensed under a Creative Commons
Attribution-Share Alike
.
Original source
: Tunpin.ong
Author
: Tunpin.ong
The Horned Parakeet is classified as Vulnerable (VU), considered to be facing a high risk of extinction in the wild.

The Horned Parakeet (Eunymphicus cornutus) is a largely green parakeet endemic to New Caledonia. It is called Horned because it has two black feathers that protrude from the head and have red tips. This parakeet has a yellowish nape with a black and red face and bluish wings and tail. It makes a nasal "kho-khoot" contact call and also makes a wide range of shrieks and chuckles. More
once considered conspecific with the Horned Parakeet of Grande Terre, but they have now been split into two species. The Ouvea Parakeet is a medium sized parakeet with mostly green plumage and a prominent green crest. The crest is composed of six backward feathers that curl forwards. The underside of the bird tends to be yellower and there is bright blue on the wings and tail. The face is dark and the beak is black, lacking the yellow on the face of the Horned Parakeet. More
The horned parakeet is a stunningly colourful and distinctive bird, most notable for its two wispy, black, red-tipped crest feathers, for which it earns its common name. The plumage is primarily green, more yellowish on underparts, with the rump ... More
The horned parakeet was previously considered to have two subspecies, E. c. cornutus and E. c. uvaeensis, but these have since been elevated to distinct species status, E. cornutus and E. uvaeensis (4). Description - The horned parakeet is a stunningly colourful and distinctive bird, most notable for its two wispy, black, red-tipped crest feathers, for which it earns its common name (4). More
The Horned Parakeet (Eunymphicus cornutus) is endemic to New Caledonia. Its preferred habitat includes the humid pine forests on the island of New Caledonia, favoring areas where they can find Agathis and Araucaria pine trees. They live in pairs or small flocks and forage for seeds and nuts in the canopy. More
same species) with the Horned Parakeet of Grande Terre, but they have now been split into two species. Distribution The Uvea Parakeet is a parrot found on the island of Ouvea in the Loyalty Islands, New Caledonia. It once ranged across other Loyalty Islands, but attempts to reintroduce this species to Lifou in 1925 and 1963 failed, as the reintroduced birds simply flew back to Ouvea. More
The Horned Parakeet Eunymphicus cornutus is endemic to New Caledonia and can be seen in most parts of the main island, where it feeds on seeds from the cones of the endemic species of Kauri pine, and other seeds and nuts. The species is classified by BirdLife as Endangered, because of its small population which is thought to be in long-term decline. The closely-related Uvea Parakeet Eunymphicus uvaeensis (also Endangered) is found only on the tiny island of Uvea. More
The Horned Parakeet is endemic to New Caledonia, which is located in the region of Melanesia in the southwest Pacific. They live in pairs or small groups and feed on seeds and nuts, in humid pine forests. Their nests can be found in tree holes and on the ground, including under rocks. The above picture was taken in the San Diego zoo, in March 2004. More
Did You Know?The Horned Parakeet is so named because of the two elongated feathers that issue from the centre of the crown on its head; in the male they measure 3" and are longer and wider than in the female. Species Profile Genus: Eunymphicus Species: cornutus Size: Adult Weight: 32cm (12. More
Pair of Horned Parakeets in captivity © Anthony Snell Wild Horned Parakeet perched on branch © Ron Hoff Horned Parakeet (Eunymphicus cornutus) © Jonker/Innemee Araproject | http://www.araproject.nl Horned Parakeet (Eunymphicus cornutus) © Jonker/Innemee Araproject | http://www.araproject.nl Page 1 of 1 pages Copyright © 2008 World Parrot Trust - All rights reserved. More
Horned ParakeetThis bird is green, a bit lighter on the breast, abdomen and under tail. The lower back has a yellow cast and the ear-coverts and nape are yellow. The forehead and crown are red. The crest consists of two red tipped black feathers. The lores are black. The flight feathers are violet-blue and the iris is orange. They have dark feet, legs and toenails. The bill is a silver-grey with black tip. More
The horned parakeet of New Caledonia, is known for its two black feathers that end in red tips, that protrude from the back of its head like horns. They can be raised and lowered much like a cockatoo crest. It communicates through shrieks and chuckling noises, and a distinctive nasal 'kho-khoot.' They eat seeds and nuts. More