Red-shouldered Macaw
The Red-shouldered Macaw , is representative of two distinct subspecies: Noble Macaw or Hahn's Macaw. Both are a small parrot native to the tropical lowlands, savannah and swamplands of Venezuela, the Guianas, Bolivia, Brazil, and far south-eastern Peru. It is the smallest macaw. These birds range from 30 to 35 centimetres in length, and have good speech mimicry. They are frequently bred in captivity for the commercial pet trade. They are not considered to be an endangered species, but wild populations have declined locally due to habitat loss. As most parrots, they are listed in Appendix II of the Convention on the International Trade in Endangered Species, which makes the trade and export of wild caught birds illegal. This status greatly limits the ability to capture or sell wild birds.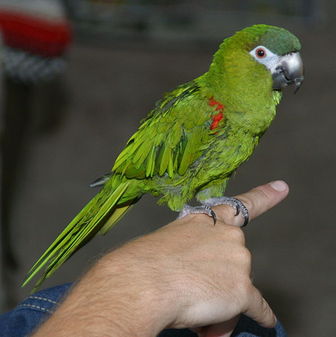 Picture of the Red-shouldered Macaw has been licensed under a
GFDL
Original source
: Diopsittaca_nobilis_-pet-2.jpg
Author
: derivative work: Snowmanradio (talk)
Permission
: GNU Free Documentation License
The Red-shouldered Macaw is classified as Least Concern. Does not qualify for a more at risk category. Widespread and abundant taxa are included in this category.

The Red-shouldered Macaw (Diopsittaca nobilis), is representative of two distinct subspecies: Noble Macaw or Hahn's Macaw. Both are a small parrot native to the tropical lowlands, savannah and swamplands of Venezuela, the Guianas, Bolivia, Brazil, and far south-eastern Peru. It is the smallest macaw. These birds range from 30 to 35 centimetres (12 to 14 inches) in length, and have good speech mimicry. They are frequently bred in captivity for the commercial pet trade. More
The Hahn's Macaw or Red-shouldered Macaw (Ara / Diopsittaca nobilis nobils) is the smallest macaw available in the pet trade. These macaws are relatively common in the pet trade, but their numbers have been dropping in the wild due to habitat loss. They are endemic to Guianas, Venezuela, Brazil - North of the Amazon. They are not yet considered to be an endangered species, but they are listed in Appendix Two of the Convention on the International Trade in Endangered Species. More
Hand reared Red-shouldered Macaws are considered the easiest of all the macaws to care for, and an excellent pet. More
of the family, the Red-shouldered Macaw, is no larger than some parakeets of the genus Aratinga. Macaws, like other parrots, toucans and woodpeckers, are zygodactyl, having their first and fourth toes pointing backwards. Contents - * 1 Species in taxonomic order * 1. More
8 oz) the Red-shouldered Macaw is the smallest of all the macaws. By contrast, the Hyacinth Macaw is 1400g (49 oz) or more. Species Profile Genus: Diopsittaca Species: nobilis Size: Adult Weight: 30cm (11.7 in) 130-170g (4.5-6 oz) Races including nominate: three: D.n. nobilis, D.n. cumanensis, D.n. longipennis Colourization Adult: D.n. More
The Red-shouldered Macaw is the smallest macaw. It can be found in Venezuela, the Guianas, Bolivia, Brazil and Peru. It has a long narrow tail and large head. They are not considered endangered but wild populations of Red-shouldered Macaws have declined due to habitat loss. More
Red-shouldered MacawRed-shouldered Macaw - Diopsittaca nobilis - Maracana Pequena (Click to open full size) Lat: Diopsittaca nobilis Port: Maracana Pequena Described by Linnaeus in 1758 See: Birds in Brazil, H. Sick - pg 267 Photos from Alagoas, Brazil - Feb 2005. More
8 oz) the Red-shouldered Macaw is the smallest of all the macaws. By contrast, the Hyacinth Macaw is 1400g (49 oz) or more. Status in the Wild World Population: Not recorded Range: D.n. nobilis: North of Amazon River in E Venezuela, in Delta Amacuro to N Monagas and north to SE Bolivar, Guianas, and NE Brazil in Roraima, N Para and Amapa. D.n. More
The Red-shouldered Macaw is a small parrot also known as the Noble Macaw, Long-wing Macaw or Hahn's Macaw. They are native to South America and are primarily green with a red shoulder and a comparatively large head. More
Red-shouldered Macaw Diopsittaca nobilis 2009 IUCN Red List Category (as evaluated by BirdLife International - the official Red List Authority for birds for IUCN): Least Concern Justification This species has an extremely large range, and hence does not approach the thresholds for Vulnerable under the range size criterion (Extent of Occurrence 30% decline over ten years or three generations). More
Stamps showing Red-shouldered Macaw Diopsittaca nobilis Red-shouldered Macaw Diopsittaca nobilis Red-shouldered Macaw Diopsittaca nobilis Red-shouldered Macaw Diopsittaca nobilis Red-shouldered Macaw Diopsittaca nobilis Bargain of the day! Red-shouldered Macaw Links will open countrypage in new window - Congo (Kinshasa) 16.08.2000 Parrots - Cuba 2009 MUSEO - Grenadines (G) 01.03. More
The Red-shouldered Macaw, at 30 cm (12 in) long, is the smallest of all the macaws. Like all macaws, it has a long narrow tail and a large head. It has bright green feathers on the body, with dark or slate blue feathers on the head just above the beak. The wings and tail have feathers that are bright green above and olive-green below. The leading edges of the wings, especially on the underside, are red. (These red feathers appear at puberty. More
FWC Home : Wildlife & Habitats :: Red-shouldered Macaw - Ara nobilis : Red-shouldered Macaw - Ara nobilis = Florida's Exotic Wildlife. Species detail. First year: 1980's Extirpated year: Established status: Species are present but not confirmed to be breeding. Population persists only with repeated introductions and/or escapes of individuals. More
* Red-shouldered Macaw or Hahn's Macaw, Diopsittaca nobilis Hypothetical extinct species Several hypothetical extinct species of macaws have been postulated based on very little evidence, and they may have been subspecies, or familiar parrots that were imported onto an Island and later presumed to have a separate identity. More