Yellow-fronted Parakeet
The Yellow-crowned Parakeet, Cyanoramphus auriceps, is a species of parakeet endemic to the islands of New Zealand. The species is found across the main three islands of New Zealand, North Island, South Island and Stewart Island/Rakiura, as well as on the subantarctic Auckland Islands. It has declined due to predation from introduced species such as stoats, although unlike the Red-fronted Parakeet it has not been extirpated from the mainland of New Zealand.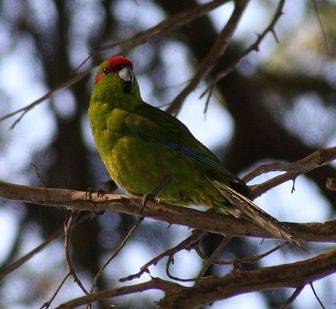 Picture of the Yellow-fronted Parakeet has been licensed under a
GFDL
Original source
: Own work
Author
: Sabine's Sunbird
Permission
: GNU Free Documentation License
The Yellow-fronted Parakeet is classified as Near Threatened (NT), is close to qualifying for or is likely to qualify for a threatened category in the near future.

The Forbe's Yellow-fronted Parakeet was formerly found on three islands of the Chatham group. Today, it is only found on Mangere and Little Mangere islands - both are located east of New Zealand's South Island. It is critically an endangered species with less of 100 of them still existing in their natural range. These parakeets prefer dense unbroken forest and scrub for their habitat. More
Parakeet or Yellow-fronted Parakeet (Cyanoramphus auriceps) is endemic to New Zealand and neighboring islands. Its numbers are decreasing and this species is uncommon throughout its range. The larger and more brightly colored Forbes' Parakeet was formerly considered a subspecies of the Yellow-crowned Parakeet - but recent research has demonstrated it to be an independent species. More
DOC officers on island mentioned that a yellow-fronted parakeet had appeared on Enderby Island a few years prior and bred with local red-fronted parakeets. They suspected this to be one of the offspring Users Comments Add your Comments Be the first to comment on this Image More
Yellow Rosella, Yellow-fronted Parakeet, size, eggs in cluth, incubation time, incubation period, breeding, info, fact - African Grey Parrot Adelaide Rosella Alexandrine Parakeet Amboina King Parakeet Antipodes Green Parrot Austral Conure Barred Parakeet Berlepsch's Conure Black-headed Caique Blue-fronted Amazon Blue-bonet Parakeet Blue-rumped Parrot Blue-throated Conure Blue-winged Parakeet Blyth's Parakeet Bodin's Amazon More