Gang-gang Cockatoo
The name Gang-gang comes from a New South Wales Aboriginal language, either Ngunnawal or Wiradjuri. It is possible both language groups called it gang gang.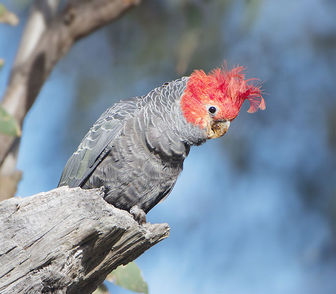 Picture of the Gang-gang Cockatoo has been licensed under a Creative Commons
Attribution-Share Alike
.
Original source
: Own work
Author
: JJ Harrison (http://www.noodlesnacks.com/)Camera location
The Gang-gang Cockatoo is classified as Least Concern. Does not qualify for a more at risk category. Widespread and abundant taxa are included in this category.

The Gang-gang Cockatoo, or Gang Gang for short, is a small, stocky cockatoo with a wispy crest, large, broad wings and a short tail. The adult male has a distinctive scarlet red head and crest, with the rest of the body slate-grey. The adult female has a dark grey head and crest, with the feathers of the underparts edged pink and yellow. More
Gang-gang Cockatoo (Callocephalon fimbriatum) and Cockatiel (Nymphicus hollandicus) have been difficult. Australian farmer and amateur ornithologist John Courtney observed in 1996 that, unlike other cockatoos, the juveniles of these two species bobbed their heads more like parrot species when begging for food. American researchers David M. Brown and Catherine A. Toft sequenced and compared mitochondrial DNA in 1999, and found both species to be more closely related to the black cockatoo genus Calyptorhynchus than to white cockatoos. More
Gang-gang Cockatoo range (in red) The Gang-gang Cockatoo, Callocephalon fimbriatum, is found in the cooler and wetter forests and woodlands of Australia, particularly alpine bushland. Mostly mild grey in colour with some lighter scalloping (more pronounced and buffish in females) the male has a red head and crest, while the female has a small fluffy grey crest. It ranges throughout south-eastern Australia and Tasmania. The Gang-gang Cockatoo is the faunal emblem of the Australian Capital Territory. More
Gang-gang cockatoos are one of the more distinctive and charismatic members of Australia's avifauna. These birds are primarily slate-grey, with the males easily identified by their scarlet head and wispy crest, while females have a grey head and crest and feathers edged with salmon pink on the underbelly. They range in length from 32 to 37 cm, with a wingspan of 62 to 76 cm. The call has been likened to a creaking gate or cork being pulled from a bottle. (Sources: Wikipedia. More
Gang-gang cockatoos are efficient in using calories and are not likely to become obese. They should be fed a formulated (pelleted or extruded) diet supplemented with fresh fruits and vegetables daily to add variety and psychological enrichment. Feed approximately 1/3 cup of formulated diet and 1/3 cup of fresh fruits and vegetables daily. Also offer two or three nuts, such as almonds, filberts or macadamias daily. Supplementation with cooked meats may be important for breeders. More
The Gang-gang Cockatoo was most often allied with the white cockatoos of the genus Cacatua. This has always been controversial due to the unusual appearance and coloration of the bird, especially its sexual dichromatism. New research has finally resolved the matter, with the Gang-gang Cockatoo being recognized as a distinctive early offshoot of the calyptorhynchine (dark) cockatoos (Brown & Toft, 1999). More
Gang-gang Cockatoo ( Callocephalon fimbriatum ) Gang-gang Cockatoo Photo by Graham Stephinson Gang-gang Cockatoo Photo by Stuart Harris Gang-gang Cockatoo Rocky Hall, NSW. More
The Gang-gang Cockatoo, Callocephalon fimbriatum, is found in the cooler and wetter forests and woodlands of Australia, particularly alpine bushland. It ranges throughout south-eastern Australia and Tasmania. Like all cockatoos, Gang-gangs nest in hollow trees. Loss of older, hollow-bearing trees and loss of feeding habitat across south-eastern Australia through land clearing has led to a significant reduction in the numbers of this cockatoo in recent years. More
Gang-gang Cockatoo is unmistakable. It is the only one with conspicuous curled crest of fine feathers. Adult male has grey body plumage. On the upperparts, feathers are white-edged whereas on the underparts, they are yellowish-edged. Flight feathers and rectrices are darker grey. Secondary coverts are tinged dull green. The head is bright red and shows a forwards-curving crest on the rear crown, made with very fine feathers named "filaments". The nape is grey. More
Gang-gang Cockatoo (Callocephalon fimbriatum) = Also Known As: Red-crowned Cockatoo, Red-crowned Parrot, Red-headed Cockatoo, Red-headed Parrot, Helmeted Cockatoo * Members Only * Wild Status * Care * Profile gang_gang_cockatoo_9 Gang Gang Cockatoo profile Credit: © Shutterstock photos Photos videoVideo 1 Video 2 videoVideo More
Gang-Gang Cockatoos with two chicks in the nest. The chicks are aged about 7 days. More
The Gang-Gang Cockatoo is a natural chewer, spending much of his idle time in his native habitat stripping leaves, buds, bark and branches from trees, so if you are keen to keep them in good feather condition you should, as a pre-requisite for the good of the birds, supply them with fresh natural hard wood branches that have seed pods. More
Gang-gang cockatoos usually prefer not to spend too much time on the ground. However, many young (and some mature) birds have been seen spending a con siderable amount of time on the ground. This behaviour makes them susceptible to infection with intestinal worms and fungi. These are relatively easily dealt with however simply by maintaining a high standard of hygiene. Another problem encountered in this species is Psittacine beak and feather disease. This is an incurable disease which is transmitted through feaces. More
The gang-gang cockatoo (Callocephalon fimbriatum) is a charming small gray cockatoo similar in size to the rose-breasted cockatoo. Gang-gangs have a wispy recurved crest that is bright red in the male and gray in the female. Both have scalloping, which is faint in the male, yellow-orange in the female. More
Gang-gang Cockatoo - Callocephalon fimbriatum - RSS Feed RSS Search Gang-gang Cockatoo - Callocephalon fimbriatum Home | What's New? | Get Started | Site Map | My Book | Contribute | Resources | Disclaimer | Contact Gang-gang Cockatoo = Callocephalon fimbriatum - More
Gang-gang Cockatoo - Scientific Committee determination Gang-gang Cockatoo - profile = Scientific name: Callocephalon fimbriatum Conservation status in NSW: Vulnerable Description - Gang-gang cockatoos are one of the more distinctive and charismatic members of Australia's avifauna. More
Gang-gang Cockatoo being recognized as a distinctive early offshoot of the calyptorhynchine (dark) cockatoos (Brown & Toft, 1999). More