Major Mitchell's Cockatoo
The Major Mitchell's Cockatoo, Lophochroa leadbeateri, also known as Leadbeater's Cockatoo or Pink Cockatoo, is a medium-sized cockatoo restricted to arid and semi-arid inland areas of Australia. It is placed in its own monotypic genus Lophochroa.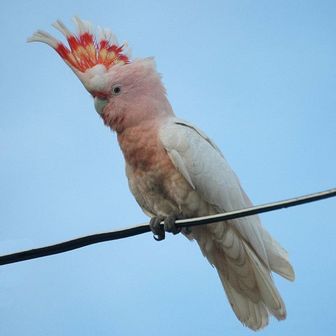 Picture of the Major Mitchell's Cockatoo has been licensed under a Creative Commons
Attribution-Share Alike
.
Original source
: self-made by author and uploader Aviceda, who posted the original version to commons at Pink_Cockatoo_Bowra_Mar08.jpg
Author
: derivative work: Snowmanradio (talk)
The Major Mitchell's Cockatoo is classified as Least Concern. Does not qualify for a more at risk category. Widespread and abundant taxa are included in this category.

Major Mitchell's Cockatoos have been known to live up to 75 years in captivity. Temperament: Major Mitchell's Cockatoos bond strongly with their owners, but have a reputation for being "one person birds." They are intelligent and affectionate when handfed as babies, and require a good deal of socialization and interaction for their emotional health. Because the Major Mitchell's require so much attention, they are recommended for experienced bird owners who are familiar with keeping large parrots. More
Major Mitchell's Cockatoo flying at Taronga Zoo, Australia * Genus Nymphicus * Cockatiel, Nymphicus hollandicus (Kerr, 1792) * Genus Probosciger * Palm Cockatoo, Probosciger aterrimus (Gmelin, 1788) * Genus Calyptorhynchus * Subgenus Calyptorhynchus – black-and-red cockatoos * Red-tailed Black Cockatoo, Calyptorhynchus More
Major Mitchell's Cockatoo range (in red) Synonyms * Plyctolophus leadbeateri Vigors, 1831 * Lophochroa leadbeateri The Major Mitchell's Cockatoo, Lophochroa leadbeateri, also known as Leadbeater's Cockatoo or Pink Cockatoo, is a medium-sized cockatoo restricted to arid and semi-arid inland areas of Australia. It is placed in its own monotypic genus Lophochroa. More
Unlike the Galah, Major Mitchell's Cockatoo has declined rather than increased as a result of man-made changes to the arid interior of Australia. Where Galahs readily occupy cleared and part-cleared land, Major Mitchell's Cockatoo requires extensive woodlands, particularly favouring Callitris, Allocasuarina and Eucalyptus. In contrast to other cockatoos, Major Mitchell pairs will not nest close to one another; in consequence, they cannot tolerate fragmented, partly-cleared habitats, and their range is contracting. More
Major Mitchell's cockatoo* An Australian Parrot (Click on photo to enlarge) * Scientific Name: Cacatua leadbeateri (nominate C. l. leadbeateri. Other subspecies C. l. mollis ) * Common Name/s: MAJOR MITCHELL'S COCKATOO, PINK COCKATOO, LEADBEATER'S COCKATOO. * Sub Species: 2 .... C. l. leadbeateri, C. l. mollis * Origin / Distribution: Inland Australia. More
On DisplayOur Amazing Major Mitchell's Cockatoo(s) are currently on displayCrocoseumOn display at the Crocoseum Major Mitchell's Cockatoo Profiles Roma Tullock Warrego Major Mitchell's Cockatoo Zoo News » Smiles For Freddo Major Mitchell's Cockatoo Diaries » Meet My New Best Mate » Fly away home! » Bonding with animals » Freddo » Major Mitchells stand out! » Bonding With The Birds Our Native Parrots More
Major Mitchell's Cockatoo have far fewer. Some species, like the Gang-gang Cockatoo are comparatively quiet, but do have softer growling calls when feeding. In addition to vocalisations, the Palm Cockatoos communicate over large distances by drumming a dead branch with a stick. Cockatoo species also make a characteristic hissing sound when threatened. Diet and Feeding: The cockatoos are versatile feeders and consume a range of food items. More
Major Mitchell's Cockatoo has been universally acclaimed as the most beautiful of the cockatoos and among the most beautiful of all parrots. One of the first to write in admiring terms of its beauty was the explorer Sir Thomas Mitchell, after whom it is named. Major Mitchell's cockatoo, also known as Leadbeater's cockatoo, is generally white with a pink flush. The head and breast are salmon pink with a large erectile crest. More
Major Mitchell's Cockatoo is an attractive white and pink cockatoo with a crest. The crest appears white when down, but shows bright red and yellow bands when raised. The male has a dark brown eye, the female has a reddish eye. Females have broader yellow bands in crest. More
Did You Know?The Major Mitchell's Cockatoo is the only cockatoo with a multicoloured crest. Species Profile Genus: Cacatua Species: leadbeateri Size: Adult Weight: 35cm (13.6 in) 340-425g (12-14.9 oz) Races including nominate: two: C.l. leadbeateri, C.l. mollis Colourization Adult: C.l. More
The Major Mitchell's cockatoo is a strikingly beautiful species. Sometimes called the Leadbeater's cockatoo or the pink cockatoo, their crest feathers are striped with yellow and salmon. Wings and back are white, and most of the chest, underwings and undertail are pink. For all their beauty, these birds don't make the best pets because they tend to be aloof – and they often bite. They are also noisy; they rarely speak, but they are loud screamers. More
The Major Mitchell's Cockatoo, Lophocroa leadbeateri, is a medium-sized cockatoo restricted to arid and semi-arid inland areas of Australia. The Major Mitchell's Cockatoo requires semi-dry habitats and extensive woodlands, particularly favouring Eucalyptus. Major Mitchell's are usually seen in pairs, or flocks with other cockatoos. Lophocroa leadbeateri rancho texas lanzaroteMain characteristics The Major Mitchell's length ranges from 33 to 40cm, with an average weight of 480 grams. More
One Major Mitchell's Cockatoo that has become quite famous is Cookie. Cookie has been living at Illinois' Brookfield Zoo near Chicago since it opened in 1934. Cookie is over 70 years of age. References - * BirdLife International (2004). Cacatua leadbeateri. 2006 IUCN Red List of Threatened Species. IUCN 2006. Retrieved on 11 May 2006. More