Plain Parakeet
Its natural habitats are subtropical or tropical moist lowland forests, subtropical or tropical moist montanes, and heavily degraded former forest. It is very common in the urban area of São Paulo, Brazil.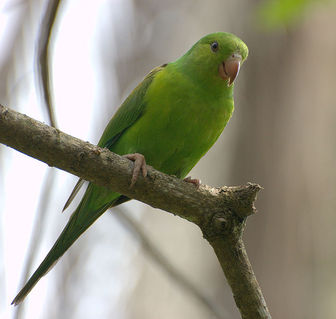 Picture of the Plain Parakeet has been licensed under a Creative Commons
Attribution-Share Alike
.
Original source
: originally posted to Flickr as PERIQUITO-RICO ( Brotogeris tirica)
Author
: Dario SanchesPermission(Reusing this file)This image, which was originally posted to Flickr.com, was uploaded to Commons using Flickr upload bot on 13:02, 6 April 2008 (UTC) by Snowmanradio (talk). On that date it was licensed under the license below. This file is licensed under the Creative Commons Attribution-Share Alike 2.0 Generic license.You are free:to share – to copy, distribute and transmit the work
The Plain Parakeet is classified as Least Concern. Does not qualify for a more at risk category. Widespread and abundant taxa are included in this category.

Plain Parakeets Brotogeris tirica 15 February 2005, Sao Paulo, Eastern Brazil Although geographically restricted to that area of South East Brazil that used to be covered in Atlantic Rain Forest, the Plain Parakeet is one of the few birds that seem to have adapted to the destruction of 95% of this critical habitat and survives very well in many areas where fruiting trees are present - including large urban centres and city parks. More
Plain Parakeet - Brotogeris tirica Plain Parakeet Brotogeris tirica Folha Seca, S More
* Plain Parakeet, Brotogeris tirica * White-winged Parakeet, Brotogeris versicolurus (also called Canary-winged Parakeet) * Yellow-chevroned Parakeet, Brotogeris chiriri * Tui Parakeet, Brotogeris sanctithomae * Grey-cheeked Parakeet, Brotogeris pyrrhoptera * Orange-chinned Parakeet, Brotogeris jugularis (also called Tovi Parakeet) * Cobalt-winged Parakeet, Brotogeris cyanoptera * Golden-winged Parakeet, Brotogeris chrysoptera More
The Plain Parakeet (Brotogeris tirica) is a species of parrot in the Psittacidae family. It is endemic to Brazil. Its natural habitats are subtropical or tropical moist lowland forests, subtropical or tropical moist montanes, and heavily degraded former forest. It is very common in the urban area of São Paulo, Brazil. Gallery - Plain Parakeet (Brotogeris tirica) -eating banana-6.jpg Plain Parakeet (Brotogeris tirica)-5. More
Plain Parakeet (Brotogeris tirica) = French: Toui tirica German: Tirikasittich Spanish: Catita Tirica Taxonomy: Psittacus Tirica J. F. Gmelin, 1788, Brazil. Monotypic. Distribution: CE Brazil from Alagoas S to at least Santa Catarina and ranging inland as far as E Goiás. More
Plain Parakeet (Brotogeris tirica) * Least Concern Get the latest Flash Player to see this video. More material of this species * 4.2Two birds feed...Brazil, Jul 2007 Josep del Hoyo * 4Two adults qua...Brazil, Jul 2007 Ivan Sazima * 4A bird eating ...Brazil, Jul 2007 Josep del Hoyo * 3.6Two birds in a... More
Plain Parakeet Brotogeris tirica = Described by: Gmelin, J. F. More
30 January 2010 10:43 Plain Parakeet - Brotogeris tirica Photo copyright: monacoeye • Do not copy • Images: Itatiaia Brazil Nov 2009 Bird name: Plain Parakeet Latin: Brotogeris tirica Other: Periquito-rico (Br) Family: Psittacidae • Parrots A pair of Plain Parakeets flew into this tree during a downpour. Plain Parakeets are entirely green (with some darker and bluish hues), with a bright leaf-green front. They have a white eye ring and pale buffish bill. More
67) PLAIN PARAKEET Brotogeris tirica Serra dos Tucanos on the 6th 68) SCALY-HEADED PARROT Pionus maximiliani Unfortunately all sightings were fly overs. There were 4 flying over the lowlands to the north of Marica on the 27th and a singular sighting on the 29th. 69) ORANGE-WINGED PARROT Amazona amazonica A roost site was visited in the lowlands to the north of Marica. More
Plain Parakeets (Brotogeris tirica) The Plain Parakeets (Brotogeris tirica) are endemic to, and common in, southern and eastern Brazil; its range stretching from southern Bahia to Sao Paulo west across southern Minas Gerais to southern Goias. They appear to be restricted to that area of South East Brazil that used to be covered in Atlantic Rain Forest. More
Plain Parakeet Brotogeris tirica 2009 IUCN Red List Category (as evaluated by BirdLife International - the official Red List Authority for birds for IUCN): Least Concern Justification This species has a very large range, and hence does not approach the thresholds for Vulnerable under the range size criterion (Extent of Occurrence 30% decline over ten years or three generations). More
Periquito-rico - Plain Parakeet - (Brotogeris tirica) = BacioSuperb detail !!Periquito-rico - Plain Parakeet - (Brotogeris tirica) by claudio.marcio2.Local: Ubatuba (SP). Lei do Direito Autoral nº 9.610, de 19 de Fevereiro de 1998: proibe a reprodução ou divulgação com fins comerciais ou não, em qualquer meio de comunicação, inclusive na Internet, sem prévia consulta e aprovação do autor. All of my photos are under full copyright. More
Plain Parakeet (Brotogeris tirica) = Plain Parakeet (Brotogeris tirica) by Hamilton Images. So this is the last of my forgotten Brazil pics and also the last image I will be uploading for a few weeks. I am heading up closer to the airport to spend the night at a hotel and then fly out tomorrow morning for Ecuador. Back late at night on the 16th. Have a great two weeks everyone. See you when I get back. More
* Play: Plain Parakeets Brotogeris Tirica Plain Parakeets Brotogeris Tirica 00:54 * * Watch on Truveo: Dino Bird 3 Dino Bird 3 01:32 * * Watch on Truveo: Plain Parakeets: Serra Dos Tucanos, Brazil More
Plain Parakeet Brotogeris tirica = S More
Plain Parakeet - Brotogeris tirica Toui tirica = Toui tirica Comment : Possible, possible que non Long-Tailed Parakeets: How to Take Care of Them and Understand Them Gallery : © Marc Chretien Site web : murinus Order : Psittaciformes Family : Psittacidae Species : Plain Parakeet Reference: mach41492 Date taken : 2007 Oct Geographic data Country More
Plain Parakeet (Brotogeris tirica) = Also Known As: All-green Parakeet, Tirica Parakeet * Members Only * Wild Status * Care * Profile Plain_Parakeet_3 Plain Parakeets preening Credit: © Arthur Grosset | http://www.arthurgrosset. More
Plain Parakeets foraging in oil palm © Carlos Yamashita Plain Parakeets foraging on jackfruit © Carlos Yamashita Plain Parakeets foraging in oil palm © Carlos Yamashita Plain Parakeets foraging in palm © Carlos Yamashita Plain Parakeet © Charlie Moores More
The Plain Parakeet is also known as the All-Green Parakeet. This graceful looking parakeet is attractive, despite the lack of colours. It is probably the least available of this family despite having a wild population estimated in excess of half a million birds. More
Plain Parakeet, Brotogeris tirica Psittacidae (PARROTS) Plain Parakeet, Brotogeris tirica This photo was taken in: Brazil The photo was taken by: Tom Stephenson , Brazil reports Birdwatching trip reports from Brazil Birdwatching trip reports from around the world Identification Notes: Submit Identification notes for this photo here More