Scarlet-fronted Parakeet
The Scarlet-fronted Parakeet or is a long-tailed South American species of parrot, which is sometimes called the Scarlet-fronted Conure or Wagler's Conure. It is found in Colombia, Ecuador, Peru, and Venezuela. Its natural habitats are subtropical or tropical dry forests, subtropical or tropical moist lowland forests, subtropical or tropical moist montanes, and especially high-altitude shrubland and forest; it is also known to visit heavily degraded former forest.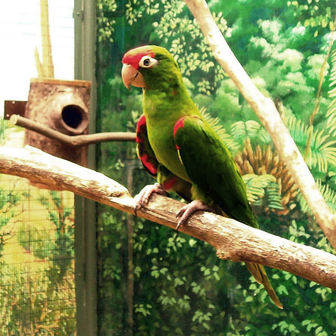 Picture of the Scarlet-fronted Parakeet has been licensed under a Creative Commons
Attribution
.
Original source
: Lynn Zheng
Author
: Lynn Zheng
The Scarlet-fronted Parakeet is classified as Least Concern. Does not qualify for a more at risk category. Widespread and abundant taxa are included in this category.

The Scarlet-fronted Parakeet (Aratinga wagleri) or is a long-tailed South American species of parrot, which is sometimes called the Scarlet-fronted Conure or Wagler's Conure. It is found in Colombia, Ecuador, Peru, and Venezuela. Its natural habitats are subtropical or tropical dry forests, subtropical or tropical moist lowland forests, subtropical or tropical moist montanes, and especially high-altitude shrubland and forest; it is also known to visit heavily degraded former forest. More
* Scarlet-fronted Parakeet At a residence along the road coming down from the El Dorado Reserve. Sierra Nevada de Santa Marta, Magdalena Department, Colombia (ssp wagleri) Erik Breden 10 June 2009 3 hours ago ADDED TODAY! 3 * Bird perched on a tree Bird perched on a tree Chancay Valley, Lima, Peru Nature Expeditions... 1 May 2008 40 weeks ago 2. More
Scarlet-fronted Parakeets (Aratinga wagleri), Upper Marañon Valley, Peru Scarlet-fronted Parakeets (Aratinga wagleri), Bagua Chica, Peru Scarlet-fronted Parakeet (Aratinga wagleri), Upper Marañon Valley, Peru Aratinga wagleri-Scarlet fronted Parakeet-Dorada Locations for recordings with GPS coordinates page 1 Scarlet-fronted Parakeet calls during foraging Aratinga wagleri (0:43) Herman van Oosten XC8697 02-10-2006, Peru Scarlet-fronted Parakeet calls Aratinga wagleri (0:15) More
This Scarlet-fronted Parakeet was photographed at the ProAves El Dorado Reserve, Sierra Nevada de Santa Marta, Department Magdalena, Colombia. Photo taken with a AF-S VR Zoom-Nikkor 70-300mm f/4.5-5.6G IF-ED lens (EFL=450mm) on a Nikon D200 camera. More
The long-tailed Scarlet-fronted Parakeet of South America is sometimes called the Scarlet-fronted Conure. It can be found in Venezuela, Peru, Ecuador and Columbia on its natural habitats like subtropical or tropical dry forest, subtropical or tropical moist lowland forests, subtropical or tropical moist mountains and especially high-altitude shrubland and forest. More