Red-masked Conure
Red-masked Parakeets average about 33 cm long, of which half is the tail. They are bright green with a mostly red head on which the elongated pale eye-ring is conspicuous; the nape is green. Also, the lesser and median underwing coverts are red, and there is some red on the neck, the thighs, and the leading edge of the wings. Juveniles have green plumage, until their first red feathers appear at around the age of four months.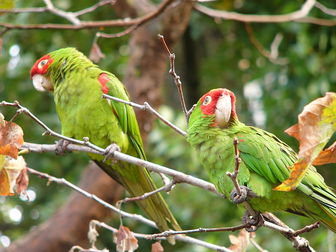 Picture of the Red-masked Conure has been licensed under a Creative Commons
Attribution
.
Original source
: Flickr
Author
: Jef PoskanzerPermission(Reusing this file)This image, which was originally posted to Flickr.com, was uploaded to Commons using Flickr upload bot on 22:47, 20 March 2008 (UTC) by Snowmanradio (talk). On that date it was licensed under the license below.This file is licensed under the Creative Commons Attribution 2.0 Generic license.You are free:to share – to copy, distribute and transmit the work
The Red-masked Conure is classified as Near Threatened (NT), is close to qualifying for or is likely to qualify for a threatened category in the near future.

The Red-masked Conure or Cherry-headed Conure is an affectionate and playful coompanion bird. When they are hand raised they have no fear of people and will quickly become 'one of the bunch'. They make a wonderful pet! Besides being very intelligent and loveable, the Red-masked Conure or Cherry-headed Conure is a real clown and loves to show off. They are easy to tame and are good talkers. They do however have a grating call and can get quite loud. More
Red-masked Conures are medium-sized parrots that average 33 cm (13 in) in length, half of which is the tail. They have a beautiful green plumage that is paler and more yellowish on the underside. The whole head is red, except for for the back half of the cheeks. There is also red on the shoulders, underside of the wings and the thighs. The eye is yellow surrounded by a white eye ring. The beak is horn colored and the legs are grey. More
the Red-masked Conure to have a great playful personality. Length 33 cm (13 ins). Average Lifespan 30 Years Loudness The Red-masked Conure are known as loud birds. The bird has a very loud call, and if not trained properly, the bird will be loud more often. Red-masked Conure owners say it is possible to train the birds to be quieter. More
Did You Know?The Red-masked Conure will nest in a variety of places - from mature trees to termite nests; also one report of a nest in a cliff. Species Profile Genus: Aratinga Species: erythrogenys Size: Adult Weight: 33cm (12.8 in) 165-200g (5. More
Cherry-heads, sometimes also called Red-masked Conures, have a very rich green color. Their heads are bright red and they also have isolated red feathers on their necks. There is some red on the thighs and also the carpal edge of the wings and the lesser and median under wing coverts are red. The naked eye ring is a muted white, and the beak is horn colored. Feet are of gray color. Size is 13 inches long. More
The Red-masked Conure, Aratinga erythrogenys, is a medium-sized South American parrot. It is known in the pet trade as the Cherry-headed Conure. Red-masked conures average about 33 cm (13 in) long, of which half is the tail. They are bright green with a mostly red head on which the elongated pale eye-ring is conspicuous; the nape is green. Also, the lesser and median underwing coverts are red, and there is some red on the neck, the thighs, and the leading edge of the wings. More
The Red-Masked Conure originates from Tropics of western Ecuador and northwestern Peru. It is one of the larger members of the Aratinga group of Conures measuring 13" in length. Your new pet has been hand-reared and has no fear of humans. He/she should be treated with respect and will respond with affection and trust. More