Peach-fronted Parakeet
The Peach-fronted Parakeet , more commonly known as the Peach-fronted Conure in aviculture, is a species of parrot in the Psittacidae family. It is widespread and often common in semi-open and open habitats in eastern Brazil, Bolivia, Paraguay, far northern Argentina and southern Suriname . Both its common and scientific name is a reference to the orange-yellow forehead, although this is reduced in juveniles.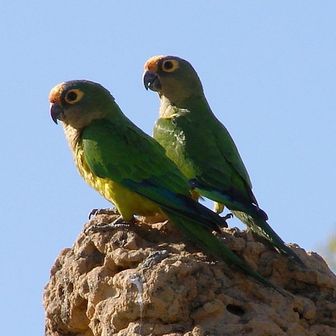 Picture of the Peach-fronted Parakeet has been licensed under a Creative Commons
Attribution
.
Original source
: originally posted to Flickr as Namorando no cupim and uploaded to commons as Aratinga_aurea_-Brazil-8.jpg
Author
: derivative work: Snowmanradio (talk)
The Peach-fronted Parakeet is classified as Least Concern. Does not qualify for a more at risk category. Widespread and abundant taxa are included in this category.

The Peach-fronted Parakeet or Peach-fronted Conure is a parrot native to Argentina, Bolivia, Brazil, Paraguay, Pery and Suriname. Its natural habitats include subtropical and tropical moist lowland forest, dry savanna and wet and flooded grassland. Its name comes from its peach-colored forehead. These birds feed on seeds, including crops of soya and maize. More
* Four Peach-fronted Parakeet at the branches of an avocado tree at the Army Hospital of São Paulo. São Paulo, Brazil Mario Olyntho 17 December 2009 19 weeks ago 3 * a group Serra da Canastra, Minas Gerais, Brazil Daniêl Jimenez 6 October 2005 1 year ago 2 Sounds 1 recording * calls of two birds. More
Photo of a captured Peach-fronted Parakeet by John Mittermeier on the Sipaliwini savanna in 2007. The Sipaliwini savanna has more bird species in common with the cerrado in North-Eastern Brazil, then for instance with the savanna near Zanderij or in Guyana. It seems in former ice-ages Sipaliwini was larger and connected to similar areas in Brazil. Recent articles by for instance John Mittermeier and Brian O'Shea confirm this idea. It makes the Sipaliwini a special place, more than worth to protect. More
For the purposes of our bird news services, Peach-fronted Parakeet is classed as Ungraded: species that are unlikely to appear as wild birds in Britain or Ireland hide section Most recent photos of Peach-fronted Parakeet (1) Pantanal, Mato Grosso do Sul, Brazil Pantanal, Mato Grosso do Sul, Brazil05/07/2008 Pantanal, Mato Grosso do Sul, Brazil 05/07/2008 View all pictures of Peach-fronted Parakeet View all pictures of Peach-fronted Parakeet show section External Links (0) We More
***The Peach-fronted Parakeet Aratinga aurea was added to the list in May 2009 but apart from a sighting recorded no other details are forthcoming. After the survey in November 2007 a book was left in the lodge at REGUA for visitors to note their Parrot sightings so hopefully when I go back there may be more details to update here. More