White-fronted Amazon
The White-fronted Amazon, Amazona albifrons, also known as the White-fronted Parrot, or adopted slang term Spectacled Amazon Parrot is a Central American species of parrot. Not to be confused with the Red-spectacled Amazon. They also can imitate a range from 30 to 40 different sounds. Like other large parrots, the White-fronted Parrot has a long potential life span, usually around 40 years.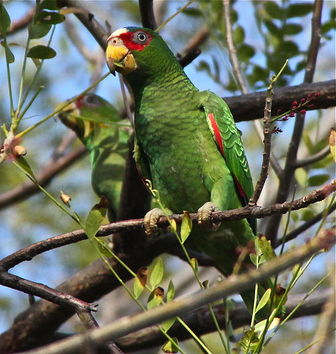 Picture of the White-fronted Amazon has been licensed under a Creative Commons
Attribution
.
Original source
: originally posted to Flickr as love birds
Author
: Steve JurvetsonPermission(Reusing this file)This image, which was originally posted to Flickr.com, was uploaded to Commons using Flickr upload bot on 12:51, 18 January 2010 (UTC) by Snowmanradio (talk). On that date it was licensed under the license below.This file is licensed under the Creative Commons Attribution 2.0 Generic license.You are free:to share – to copy, distribute and transmit the work
The White-fronted Amazon is classified as Least Concern. Does not qualify for a more at risk category. Widespread and abundant taxa are included in this category.

White-fronted AmazonSpectacled Amazon ~ White-browed Amazon = Family: PsittacidaeWhite-fronted Amazon, Spectacled Amazon, or White-browed Amazon (juvenile) * Puzzles * Postcards Amazona albifronsPhoto More
The White-fronted Amazon, at about 25 cm (10 in) long, is the smallest of the Amazon parrots. This species is named for the bright white patch of feathers on their foreheads, although the amount of white varies from individual to individual. They have mostly green plumage with some blue colouring on their outspread wings. They have bright red coloring around their eyes (in some individuals almost like spectacles) and blue coloring behind the patch of white on their foreheads. More
Diet: The diet of White-fronted Amazons overlaps to a certain degree with the larger Yellow-naped Amazons and the smaller Orange-fronted Conures. They also eat a number of additional fruits and seeds not eaten by the two other species. More
White-fronted Amazon ParrotWhite-fronted or Spectacled Amazon Parrots = (Amazona albifrons albifrons) Useful Webpages: General Information about Amazon Parrots ... Amazon Species ... Amazon Photo Gallery .... The Diseases of the Amazon Parrots ... Amazon Nutrition / Diet ... More
Traits: The white-fronted Amazon is a high-energy, curious and affectionate bird. These pet birds are a smaller than most Amazons, but their energetic personalities are giving them rise in popularity among pet bird owners. White-fronted Amazons should be housed in a large cage with plenty out of cage time to work off their energy, according to Diana Holloway, former president of The Amazona Society. More
We carry a great selection of white-fronted amazon gifts for parrot lovers. Just pick a section below to see more products: Love Spectacled Amazon Kawaii Darling Spectacled Amazon t-shirts! We've drawn the parrot as kawaii, surrounded by fat blue text reading, "I Love my Spectacled Amazon." Tees, hats, mugs, ornament & more. I Love My White Fronted Amazon Cartoon Cute Spectacled Amazon cartoon has a parrot drawing standing next to a big red heart. More
The White-fronted Amazon is native to Central America and southern Mexico; and is most often seen in small flocks of up to 20 birds. In the wild they are not shy and people are often able to approach them. Flocks may congregate and people have seen groups that number into the hundreds. It is relatively small when compared to other Amazons. More
White-fronted Amazon foraging on local fruiting tree Credit: © Bowles/Erickson | http://www.amazornia.com photos Photos videoVideo 1 Video 2 eNewsletter SIGNUP FOR EMAIL UPDATES Did You Know?The White-fronted Amazon is the smallest of all the amazon parrots. More
White-fronted Amazon feeding on berries © Bowles/Erickson | http://www.amazornia.com White-fronted Amazon feeding on berries © Bowles/Erickson | http://www.amazornia.com White-fronted Amazon feeding on berries © Bowles/Erickson | http://www.amazornia.com White-fronted Amazon displaying © Bowles/Erickson | http://www.amazornia. More
White-fronted Amazons can probably live up to 50 years judging by life span of similar species. Appearance White-fronted Amazons are relatively small Amazons measuring about 9 to 10 inches in height. They are almost identical in appearance to the yellow-lored Amazon but have red lores instead of yellow. They have white foreheads, and red rings around the eyes, and red cheeks. More
White-fronted Amazon perching in a tree, Photograph by Matt MacGillivray. Some rights reserved. BIRD FACTS - - Description The White-fronted Parrot is mostly green with bright red around the eyes and a white patch on the forehead. There is a patch of blue on the head behind the white forehead patch. Males have bright red shoulder feathers, and females have green shoulders. More