Australian King Parrot
The Australian King Parrot was first described by the German naturalist Martin Lichtenstein in 1818. The species belongs to the genus Alisterus, whose three members are known as king parrots. The genus is sometimes sunk into the genus Aprosmictus.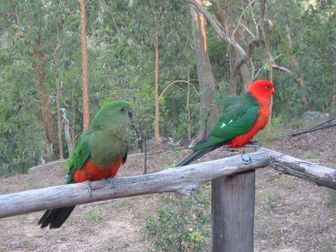 Picture of the Australian King Parrot has been licensed under a Creative Commons
Attribution
.
Original source
: Flickr
Author
: Peter FirmingerPermission(Reusing this file)This image, which was originally posted to Flickr.com, was uploaded to Commons using Flickr upload bot on 00:39, 21 March 2008 (UTC) by Snowmanradio (talk). On that date it was licensed under the license below.This file is licensed under the Creative Commons Attribution 2.0 Generic license.You are free:to share – to copy, distribute and transmit the work
The Australian King Parrot is classified as Least Concern. Does not qualify for a more at risk category. Widespread and abundant taxa are included in this category.

Photo: An Australian king parrot sits on a tree branch WALLPAPER An Australian king parrot is just one of about 350 types of birds considered parrots—a group which includes macaws and cockatoos. More
The Australian King Parrot (Alisterus scapularis) is endemic to eastern Australia. It is found in humid and heavily forested upland regions of the eastern portion of the continent, including eucalyptus wooded areas in and directly adjacent to subtropical and temperate rainforest. They feed on fruits, seeds or small insects. More
The Papuan King Parrot and the Australian King Parrot show sexual dimorphism in their plumage and beak colouration, which contrast to the Moluccan King Parrot where the male and female have an identical external appearance. The two subspecies of the Australian King Parrot are similar except in size. The male has a red head and neck, red lower parts, blue back and rump, green wings each with a pale-green band (resembling a shoulder stripe). More
The pale green head of a female Australian King ParrotThe bright red head of a male Australian King ParrotThe female Australian King Parrot is camouflaged in a dull green while the male struts around in brilliant red, bright green and a contrasting deep green. Australian King Parrots are also called the Southern King Parrot or King Lory. Their scientific name is Alisterus scapularis. King Parrots are shy and live in the forests along the coastal areas of New South Wales, Victoria, and Queensland. More
Male and Female Australian King Parrot - the female is well hidden in the foliage - to the right 1 Male and 2 Female Australian King Parrots at a bird feeder Australian King ParrotsSeveral exciting mutations have occurred in aviculture - please refer to the photo to the right. Australian King Parrots in Aviculture and as Pets: King Parrots are desirable aviary birds because of their strikingly beautiful plumage and their quiet / calm disposition. In most areas, they are not readily available. More
Australian King Parrot Size: 40-44cm Habitat: Located on the eastern coast from Northern QLD to Southern VIC. Inhabiting mountain rainforests, tall wooded forests. Nests in tree hollows. Notes: Male has red head and breast, green wings and tail. Female has green body and head and belly red. Breeds Spring-Summer. For more information on Australian King Parrot see references. Page | 1 | kingparrot.jpg kingparrot2.jpg kingparrot3. More
On DisplayOur Amazing Australian King Parrot(s) are currently on display Australian King Parrot Diaries » New Crew Our Native Parrots » Eclectus Parrot » Red-collared Lorikeet » Red-tailed Black Cockatoo » Major Mitchell's Cockatoo » Sulphur-crested Cockatoo » Australian King Parrot » Golden-shouldered Parrot » Yellow-tailed Black Cockatoo - Visit our events page... More
The Australian King Parrot is a beautiful colored bird that resides in the Australian tropical rainforest and scrublands while breeding but will flock to parks, orchards and farms in other seasons. - Beautiful Colored Australian King Parrot: Scientific Name: Alisterus scapularis share to Facebook With eyes closed, this Australian King Parrot decides to take a break from his busy day and rest in a tree at the Auckland Zoo. More
information regarding the Australian King Parrot and the Crimson Winged Parrot as well as breeding and handraising information based on our own experience and information we have gathered from various sources. In addition we have included video footage of our own King Parrots and Crimson Wing Parrots including some of newly hatched babies and video diary of the developing chicks. More
Wild Australian King Parrots build their nests in eucalyptus trees and line them with chewed wood shavings. The ones encountered in the wild are often quite shy. Reproduction The nest is usually a cavity located in a large eucalypts tree. Although the entrance is high above the ground, the floor of the cavity itself may be almost at ground level. The nest lining is usually a layer of decayed wood dust. More
Australian King Parrot (male) in a tree © Tom Turrant | http://www.aviceda.org/abid/ Australian King Parrot © Tom Turrant | http://www.aviceda. More