Yellow-collared Lovebird
The Yellow-collared Lovebird is a mainly green small parrot about 14.5 cm long. It upper parts are a darker green than its lower surfaces. Its head is black, and it has a bright red beak and white eyerings. Yellow on the breast is continuous with a yellow collar and an expansion of yellow over the nape of the neck. Male and female have identical external appearance.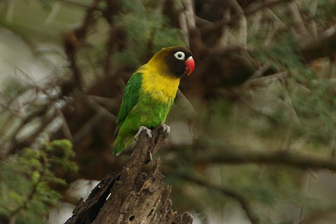 Picture of the Yellow-collared Lovebird has been licensed under a Creative Commons
Attribution
.
Original source
: Serengeti(Fisher Love Bird)Uploaded by Snowmanradio
Author
: Demetrius John Kessy from Arusha, Tanzania
The Yellow-collared Lovebird is classified as Least Concern. Does not qualify for a more at risk category. Widespread and abundant taxa are included in this category.

The Masked or Yellow-Collared Lovebird, Agapornis personata – Part I, Natural History = Overview Lovebirds are among the smallest of the world's parrots, and an excellent choice for those without the space for a large bird. Although the Peach- Faced Lovebird was the first species to become widely available in this country, the colorful Masked Lovebird now rivals it in popularity. More
I, Natural HistoryThe Masked or Yellow-Collared Lovebird, Agapornis personata – Care in Captivity – Part 2 » The Masked or Yellow-Collared Lovebird, Agapornis personata – Care in Captivity – Part 1 = Masked LovebirdGeneral Small size, a hearty constitution and fearless personality render the Masked Lovebird an excellent choice when venturing into parrot-keeping - yet these Tanzanian natives are so engaging that they remain common in the collections of even very advanced aviculturists. More
* Yellow-collared Lovebird, Agapornis personatus, Reichenow, 1887 — or Masked Lovebird * Fischer's Lovebird, Agapornis fischeri, Reichenow, 1887 * Lilian's Lovebird, Agapornis lilianae, Shelley, 1894 — or Nyasa Lovebird * Black-cheeked Lovebird, Agapornis nigrigenis, W.L. More
The Yellow-collared Lovebird (Agapornis personatus), also called Masked Lovebird or Eye Ring Lovebird, is a monotypic species of bird of the lovebird genus in the parrot family. They are native to northeast Tanzania, and they have been introduced to Burundi and Kenya. More
Yellow-collared Lovebird, Agapornis personatus - Topic Categories: Birding • Education • Mystery Birds • Photography • Teaching • Travel Posted on: January 3, 2010 9:59 AM, by "GrrlScientist" tags: Ashy Starling, Cosmopsarus (Spreo) unicolor, Yellow-collared Lovebird, Black-Masked Lovebird, Agapornis personatus, birds, mystery bird, bird ID quiz Ashy Starling, Cosmopsarus (Spreo) unicolor (L), and Yellow-collared Lovebird, also known as the Black-Masked Lovebird, Agapornis personatus (R), More
A Yellow-collared Lovebird perching by the entrance to a nest box in a large aviary at Honolulu Zoo, Hawaii, USA Lovebirds require an appropriately sized cage or aviary. Recommended space per bird is min 1m×1m×1m. Lovebird's beaks are made of keratin, which grows continuously. Chewing and destroying wood toys and perches helps to keep beaks trim. Cuttlebones help provide beak-trimming. More
Yellow-collared Lovebird (Agapornis personatus) Previous Index Home Page Next - More
Yellow-collared Lovebird Agapornis swindernianus = * Home Expand Log in Menu item Register Menu item Log out Menu item Change login details Menu item Why register? Expand UK & Ireland Menu item Birding sites More
Yellow-collared Lovebird Agapornis personatus 2009 IUCN Red List Category (as evaluated by BirdLife International - the official Red List Authority for birds for IUCN): Least Concern Justification This species has a very large range, and hence does not approach the thresholds for Vulnerable under the range size criterion (Extent of Occurrence 30% decline over ten years or three generations). More
Yellow-collared Lovebird Agapornis personatus Yellow-collared Lovebird Agapornis personatus Yellow-collared Lovebird Agapornis personatus Yellow-collared Lovebird Agapornis personatus Distribution map for Yellow-collared Lovebird, range 73.101 Yellow-collared Lovebird IOC v2.4: 2325 Links will open countrypage in new window - Centralafrica 10.03.1999 Birds of Africa Sheet - Centralafrica 12.07.2001 Birds Sheet - Cuba 23.02. More
Stamps showing Yellow-collared Lovebird Agapornis personatus Yellow-collared Lovebird Agapornis personatus Yellow-collared Lovebird Agapornis personatus Yellow-collared Lovebird Agapornis personatus Yellow-collared Lovebird Agapornis personatus Yellow-collared Lovebird Agapornis personatus Yellow-collared Lovebird Agapornis personatus Yellow-collared Lovebird Agapornis personatus Yellow-collared Lovebird Agapornis personatus Yellow-collared Lovebird Agapornis personatus Yellow-collared Lovebird Agapornis personatus Yellow-collared Lovebird Agapornis personatus Yellow-collared Lovebird Agapornis personatus Yellow-collared Lovebird Agapornis More
Yellow-collared Lovebird (Agapornis personatus), also called Masked Lovebird or Eye Ring Lovebird. Stands at approx 3 inches tall and is needle felted from 100% organically farmed wool tops. More
Caption: Yellow-collared lovebirds stay local with one of the smallest ranges among East African birds. More
Yellow-collared Lovebird 3 by Allen Hutchison Taken on October 7, 2007 at 9.15am PDT Posted to Flickr November 3, 2007 at 11.54AM PDT What is EXIF data? Almost all new digital cameras save JPEG (jpg) files with EXIF (Exchangeable Image File) data. Camera settings and scene information are recorded by the camera into the image file. More
Yellow-collared Lovebird Agapornis personatus = Described by: Reichenow (1887) Alternate common name(s): Masked Lovebird, Black-masked Lovebird Old scientific name(s): Agapornis personata Photographs Location unknown - Date unknown More
* Yellow-collared Lovebird, Agapornis personatus * Lilian's Lovebird, Agapornis lilianae * Black-cheeked Lovebird, Agapornis nigrigeni All text is available under the terms of the GNU Free Documentation License Kingdom: Animalia Phylum: Chordata Class: Aves Order: Psittaciformes Family: Psittacidae More
Yellow-collared Lovebird, , Tanzania 24/08/03 © Mark Sutton Endemic to N. Tanzania, but feral populations now exist in Kenya Yellow-collared Lovebird - Yellow-collared Lovebird, Tanzania, Tarangire NP March 2006 © Pete Morris/Birdquest A relatively common but very localized endemic. More
Yellow-collared Lovebird (Agapornis personatus) Dar es Salaam, Tanzania - 2004 Sony CyberShot DSC-V1, Swarovski 80 HD © Peter Nilsson - All text and images are Copyright © 2004-2009, Wildbirdgallery.com. All rights reserved. More
* Yellow-collared Lovebird, Agapornis personatus * Lilian's Lovebird, Agapornis lilianae * Black-cheeked Lovebird, Agapornis nigrigeni Family of four lovebirds Lovebirds in Aviculture - Unlike many of the larger parrots, which had already been kept as pets even by Alexander the Great, lovebirds were first brought to Europe during the 18th century. Pet lovebirds are now bred in captivity. More