Grey-headed Lovebird
The Grey-headed Lovebird is one of the smallest species of the lovebird genus, being 13 cm long and weighing about 30–36 grams. Its beak and feet are pale grey. The species is sexually dimorphic: the adult female is entirely green, with a dark green back and wings, a bright green rump, and a paler green chest; the adult male are similarly colored, except that their entire head and upper chest are a pale grey.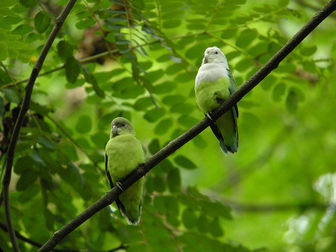 Picture of the Grey-headed Lovebird has been licensed under a Creative Commons
Attribution
.
Original source
: Flickr: Grey-headed Lovebird, Ankarafantsika, Madagascar
Author
: Frank VassenPermission(Reusing this file)This image, which was originally posted to Flickr.com, was uploaded to Commons using Flickr upload bot on 15:56, 5 March 2011 (UTC) by Attis1979 (talk). On that date it was licensed under the license below.This file is licensed under the Creative Commons Attribution 2.0 Generic license.You are free:to share – to copy, distribute and transmit the work
The Grey-headed Lovebird is classified as Least Concern. Does not qualify for a more at risk category. Widespread and abundant taxa are included in this category.

The Grey-headed Lovebird or Madagascar Lovebird (Agapornis cana) is a small species of parrot of the lovebird genus. It is a mainly green parrot. The species is sexually dimorphic and only the adult male had a grey upper body. They are native on the island of Madagascar and are the only lovebird species which are not native on the African continent. They are the smallest of the lovebird species. It is rarely seen in aviculture and it is difficult to breed in captivity. More
the Grey-headed Lovebird is native to Madagascar. Their name stems from the parrots' strong, monogamous pair bonding and the long periods in which paired birds will spend sitting together. Lovebirds live in small flocks and eat fruit, vegetables, grasses and seed. Black-winged Lovebirds also eat insects and figs, and the Black-collared Lovebirds have a special dietary requirement for native figs, making them problematic to keep in captivity. More
The Grey-headed Lovebird or Madagascar Lovebird (Agapornis cana) is a species of parrot. This sexually dimorphic lovebird species is rarely seen in aviculture and is known to be difficult to breed. They come from the island of Madagascar off the coast of Africa and are the smallest of the lovebird species. Madagascar Lovebirds are the only lovebird species which does not originate on the African continent. Madagascar lovebirds come, not surprisingly, from the island of Madagascar, which lies off of Africa's Southeast coast. More
Grey-headed Lovebird (Agapornis canus) = Also Known As: Madagascar Lovebird, Lavendar-headed Lovebird * Members Only * Wild Status * Care * Profile madagascar_lovebird_5 Captive Grey-headed or Madagascar Lovebird Credit: © Susi photos Photos videoVideo 1 eNewsletter SIGNUP FOR EMAIL UPDATES Did You Know?The Madagascar More
Stamps showing Grey-headed Lovebird Agapornis canus Grey-headed Lovebird Agapornis canus Grey-headed Lovebird Agapornis canus Grey-headed Lovebird Agapornis canus Grey-headed Lovebird Agapornis canus Grey-headed Lovebird Agapornis canus Grey-headed Lovebird Agapornis canus Bargain of the day! Grey-headed Lovebird Links will open countrypage in new window - Comoro Islands 15.03.1989 Scouts - Laos 04.03. More
* Grey-headed Lovebird, Agapornis canus, (Gmelin, 1788) — or Madagascar Lovebird * Agapornis canus ablectaneus, Bangs, 1918 * Agapornis canus canus, (Gmelin, 1788) * Black-winged Lovebird, Agapornis taranta, (Stanley, 1814) — or Abyssinian Lovebird * Red-headed Lovebird, Agapornis pullarius, (Linnaeus, 1758) — or Red-faced Lovebird More
The Madagascar or Grey-headed Lovebird was named agapornis canus canus by Gmelin in 1788, although the first record (painting) of the bird occurred in 1760 in M. J. Brisson's Ornithologica 1. For interests sake it is worthwhile knowing that Gmelin also referred to the Madagascan Lovebird as a. canus gave in his physical description of the bird, which accounts for the now common term: Grey-headed (gave being latin for grey 1) Lovebird. More
Grey-headed Lovebird (Agapornis cana) - Wiki Grey-headed Lovebird (Agapornis cana) - Wiki; Image ONLY Email : E-Card | Poster | Web Master Delete Edit Info Admin Description Grey-headed Lovebird (Agapornis cana) - Wiki Grey-headed Lovebird From Wikipedia, the free encyclopedia English: Grey-headed Lovebird. ???Norsk (bokm??l)???: Madagaskardvergpapegøye. Author Alexander Francis Lydon (1836-1917) The Grey-headed Lovebird or Madagascar Lovebird (Agapornis cana) is a species of parrot. More
Grey-headed Lovebird Agapornis canus 2009 IUCN Red List Category (as evaluated by BirdLife International - the official Red List Authority for birds for IUCN): Least Concern Justification This species has a very large range, and hence does not approach the thresholds for Vulnerable under the range size criterion (Extent of Occurrence 30% decline over ten years or three generations). More
Grey-headed Lovebird (Agapornis canus) * Least Concern Grey-headed Lovebird (Agapornis canus) Grey-headed Lovebird (Agapornis canus) photo More material of this species * 3.8A bird in a tr...Madagascar, Jun 1996 Helmut Schenkel Br... * 3.4Grauköpfchen ...Switzerland, Jun 2009 Armin Brockner * 3.3A pair, the fe...Germany, Aug 2006 Josep del Hoyo * 3.3A male perched... More
Grey-headed Lovebird (Agapornis canus) photo Ifaty, Madagascar August, 2003 More
Grey-headed Lovebird (Agapornis canus) photo details * Recorded 6 June 2009 * Added to IBC 47 weeks 6 days ago * Author Armin Brockner * Location Switzerland * Caption Grauköpfchen Männchen 2.85Average: 2.9 (7 votes) Your rating: None Voting is for registered members only. More
* Grey-headed Lovebird, Agapornis canus * Red-faced Lovebird, Agapornis pullarius * Black-winged Lovebird, Agapornis taranta * Black-collared Lovebird, Agapornis swinderniana * ] * Fischer's Lovebird, Agapornis fischeri * Yellow-collared Lovebird, Agapornis personatus * Lilian's Lovebird, Agapornis lilianae * Black-cheeked Lovebird, Agapornis nigrigeni Family of four lovebirds More
Grey-headed Lovebird Agapornis canus = * Home Expand Log in Menu item Register Menu item Log out Menu item Change login details Menu item Why register? Expand UK & Ireland Menu item Birding sites More
The Grey-headed Lovebird is endemic to the island of Madagascar off the African east coast and can be found nowhere else in the world. It is often referred to simply as Madagascar Lovebird, Madagascan Lovebird, or The Lovebird of Madagascar. Unlike the other lovebirds, the male bird of this species has a distinctive grey upper body, neck and head which contrasts sharply against the green. More