Australasian Grebe
It is an excellent swimmer and diver, and usually dives immediately when alarmed and swims away under water.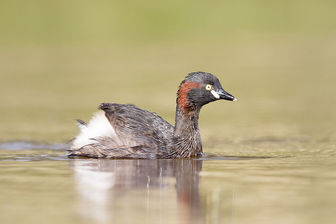 Picture of the Australasian Grebe has been licensed under a Creative Commons
Attribution-Share Alike
.
Original source
: Own work
Author
: JJ Harrison (http://www.noodlesnacks.com/)Camera location
The Australasian Grebe is classified as Least Concern. Does not qualify for a more at risk category. Widespread and abundant taxa are included in this category.

The Australasian Grebe is a small waterbird with two distinct plumage phases. The non-breeding plumage of both the male and female is dark grey-brown above and mostly silver-grey below, with a white oval patch of bare skin at the base of the bill. During the breeding season, both sexes have a glossy-black head and a rich chestnut facial stripe which extends from just behind the eye through to the base of the neck. More
The Australasian Grebe, Tachybaptus novaehollandiae is a tiny waterbird common on fresh water lakes and rivers in greater Australia, New Zealand and on nearby Pacific islands. At 25-27 cm in length, it is one of the smallest members of the grebe family (see also Little, Least Grebe). It is an excellent swimmer and diver, and usually dives immediately when alarmed and swims away under water. More
There are only four records of the Australasian Grebe in the Garden Bird Survey, although they can often be seen on lakes and dams in Canberra. Australasian Grebes are resident in the ACT and breed where there is permanent water. They feed by diving for small fish, pond snails, insects and small crustacea. More
Australasian Grebe in breeding plumage Flight: Their wings are short and rounded restricting their ability for long flights. When they do fly it is usually by night, steering with their trailing feet as their tail is nearly non existent. Voice: They have a shrill and chittering "chee-ee-ee-ee", sometimes as a duet. The alarm call is a sharp "tik". More
By May 15th, an Australasian Grebe was seen accompanied by a small chick, indicating the first breeding attempt of this species on the new wetland. During the first week of July, a Clamorous Reed Warbler was spotted gleaning insects amongst the sedges and from the water surface. This bird must have chosen this wetland's sedge bed as a winter refuge. A few of these warblers do over-winter around Sydney, but the majority leave the district for the warmer climate of northern Australia, usually by March. More
The Australasian Grebe is found throughout Australia and throughout the Pacific region. Also self-introduced to New Zealand. Habitat The Australasian Grebe is found in freshwater ponds or small waterways. Behaviour and adaptations Feeding and Diet Food consists mainly of small fish and water insects. Prey is normally caught during deep underwater dives, but some is taken on the surface. More
Australasian Grebe Size: 20-25cm Habitat: Commonly found across Australia in ponds, lakes, swamps and dams. It feeds on freshwater crayfish and other aquatic life which it hunts by diving underwater to depths sometimes more than 10 feet. Notes: Head and neck dark grey, body greyish-brown yellow eye. When breeding head is black with chestnut stripes on side, yellow patch on base of bill. Breeds when conditions good. For more information on Australasian Grebe see references. More
The Australasian Grebe can be found through much of Australia as well as islands in the south-west Pacific including New Calendonia and New Guinea. It is classified as common throughout its range. It can be found in sheltered ponds of fresh water and usually nest among water plants. While in breeding plumage the head patterns are quite distinctive, but the winter non-breeding plumage is duller and it is often mistaken for the Hoary-Headed Grebe. More
Australasian Grebe in breeding plumage Image by ozwildlife - Some rights reserved. Australasian Grebe | Tachybaptus novaehollandiae photo Radjah Shelduck Image by ozwildlife - Some rights reserved. More
The Australasian Grebe is found throughout Australia and also many parts of the Pacific region where it can be found in freshwater habitats such as farm dams, wetlands and other water bodies. Most people would know this species as one of the 'diving' ducks which dive under the surface in search of food, or when disturbed by us. More
The Australasian Grebe, Tachybaptus novaehollandiae is a tiny waterbird common on fresh water lakes and rivers in greater Australia, New Zealand and on nearby Pacific islands. More