Graceful pitta
Its natural habitat is subtropical or tropical moist montanes. It is threatened by habitat loss.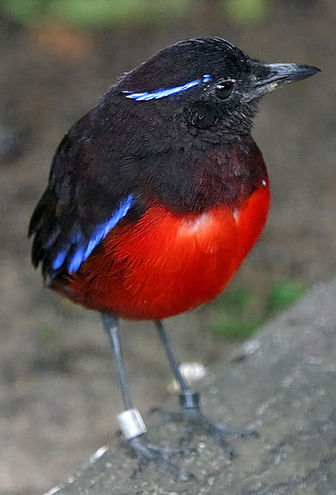 Picture of the Graceful pitta has been licensed under a
GFDL
Original source
: Dougjj
Author
: Dougjj
Permission
: GNU Free Documentation License
The Graceful pitta is classified as Vulnerable (VU), considered to be facing a high risk of extinction in the wild.

The Graceful Pitta, Pitta venusta, is a species of bird in the Pittidae family which occurs in Malaysia and Indonesia. The Malaysian form is sometimes split as the Black-headed Pitta, Pitta ussheri (Gould 1877), in which case the Graceful Pitta is endemic to Indonesia. Its natural habitat is subtropical or tropical moist montanes.It eats insects and spiders. It is threatened by habitat loss. References - * BirdLife International 2004. Pitta venusta. More
Despite its bright crimson belly, the graceful pitta blends in with the forest floor and is seldom seen. It is a stumpy-looking bird, with dark brown upperparts tinged with purple, and a long, brown tail. The head is blackish-maroon and a distinct azure-blue streak runs from above its dark brown eye to the nape. Adult graceful pittas have black bills, while the bill of juveniles is tipped with red. Juveniles can also be distinguished from adults by their plain dark brown plumage (2). More
Only a single nest of the graceful pitta has been discovered; it was a domed structure made of dead leaves, bamboo leaves, fine roots, decayed fibres and moss. It was situated 60 centimetres off the ground, amongst the leaves of an orchid growing on the trunk of a fallen tree. The graceful pitta lays clutches of two to three creamy eggs, freckled with dark spots (2). More
* Graceful Pitta, Pitta venusta, a bird species of bird found in Malaysia and Indonesia * Graceful Priapella, Priapella bonita, a presumed extinct freshwater * Graceful Racer, Coluber gracilis a species of snake found in India * Graceful rock crab, Cancer gracilis * Graceful shark, Carcharhinus amblyrhynchoides, a requiem shark found in the Indo-Pacific oceans * Graceful Small-headed More
The Graceful Pitta occurs in Malaysia and Indonesia. The Malaysian form is sometimes split as the Black-headed Pitta, Pitta ussheri, in which case the Graceful Pitta is endemic to Indonesia. Its natural habitats are subtropical or tropical moist lowland forests and subtropical or tropical moist montanes. They spend the majority of their time on wet forest floors, eating snails, insects and similar invertebrate prey. Canon EOS 10D ,Canon EF 70-200mm f/2.8L IS USM 1/25s f/5. More
Graceful Pitta was undoubtedly the highlight here but we saw all the other likely endemics; Sumatran Drongo, Sumatran Treepie, Spot-necked and Cream-striped Bulbuls, Blue-masked and Sumatran Leafbirds, together with other specialities including White-crowned Hornbill (again!), Black Laughingthrush and Marbled Wren-Babbler. During the tour we also squeezed in 2 visits to Maura Angke Marshes near Jakarta with endemic Javan Coucal, Javan Plover and Black-winged Starling among a fine selection of bonus birds. More