Hooded Pitta
Hooded Pittas can reach a length of 16 to 19 cm and a weight of 42 to 70 g. Their diet consists of various insects , which they hunt on the ground, and berries. In the breeding period, which lasts from February to August, they build nests on the ground; both parent take care of the eggs and the fledglings. They are highly territorial and their fluty double-noted whistle calls can be constantly heard from their territories, sometimes throughout the nights.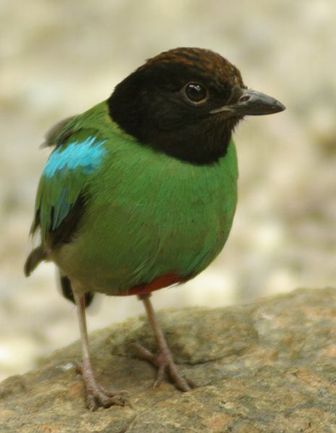 Picture of the Hooded Pitta has been licensed under a Creative Commons
Attribution-Share Alike
.
Original source
: Own work
Author
: TomR (Thomas Ruedas)
The Hooded Pitta is classified as Least Concern. Does not qualify for a more at risk category. Widespread and abundant taxa are included in this category.

Physical characteristics: Hooded pittas have a black head, thin throat, and bill; dark greenish upperparts and wings; light wing bands; dark green underparts; black flight feathers; a black tail with blue-green tips and red underneath; black belly patch and lower belly; and pale brown to pinkish feet. Females are slightly duller than males. Adults are 6.3 to 7.5 inches (16 to 19 centimeters) long and weigh between 1.6 and 2.5 ounces (42 and 70 grams). More
Hooded Pitta at Jurong Lake Park - Posted by BESG on 13 December 08, Saturday Contributed by G Sreedharan G Sreedharan photographed a Hooded Pitta (Pitta sordida) at Singapore's Jurong Lake Park on the mid-afternoon of 30th November 2008. "Bird spent most of the time up on several different trees. Another sighting was reported in Chinese Garden a day earlier. More
contribution of the Hooded Pitta having its fine dining breakfast of escargot!" Wells (2007) reports: "No direct information on foraging, but contents of two stomachs recorded as including ants and small, shelled molluscs." This reference came from "Data from the collections of the Zoological Museum, Tring, UK." What this means is that no local or regional birdwatchers or even ornithologists have so far reported the Hooded Pitta taking a snail. More
The Hooded Pitta is a beautiful member of the Pitta family and common in its range. It lives in SE Asia and Malasia including the surrounding islands. The Hooded Pittas live on insects and berries and stake out a territory which they vigorously defend. Classification Order: Passeriformes Family: Pittidae Genus: Pitta Species: P. More
The Hooded Pitta, Pitta sordida, is a passerine bird. It is common in eastern and southeastern Asia and the Maritime Southeast Asia, where it lives in different types of forests as well as on plantations and other cultivated areas. Hooded Pittas can reach a length of 16 to 19 cm and a weight of 42 to 70 g. Their diet consists of various insects (including their larvae), which they hunt on the ground, and berries. More
This Hooded Pitta is a uncommon bird to see. We saw it in the suburb of the city. Can you believe it.....what a catch indeed. By now it probably had moved to other more conducive place further south. More
The Hooded Pitta is a passerine that lives in eastern and southeastern Asia. Their preferred habitat is typically forest and woodland or cultivated land (farms and plantations) adjacent to forest. They eat insects, worms, snails and berries. Both parents contribute to caring for eggs and raising hatchlings. They are widespread in their natural range and have a conservation status of 'least threatened.' Although they are ground foragers and nesters, they have strong flight. Like other pittas, they are stocky with short tails. More
A small songbird, the hooded pitta has a black head and a bright green body with light-blue wing stripes. - Range The hooded pitta can be found from southern China to New Guinea. Status Common Habitat This mostly ground-dwelling species inhabits forests and woodlands. More
• Wednesday, February 24, 2010 - Hooded Pitta at Singapore Botanic Gardens, 16 Feb 2010 The Singapore Botanic Gardens are well worth a visit if you are interested in plants or birds, as both are well represented. We spent a morning walking around the gardens taking in all the pleasant vistas to be had. I was hoping for a few of the commoner parkland birds of Singapore to be present. The birds tend to be a little tamer in this type of environment. More
ago Hooded Pitta in Singapore Credits * SC Fang Tags * Hooded Pitta Singapore * Nature * Wildlife * Birds * Avian * Hooded Pitta * Singapore This conversation is missing your voice. More
Hooded Pitta is a passerine that lives in eastern and southeastern Asia. Their habitat is typically forest and woodland or cultivated land (farms and plantations) adjacent to forest. They eat insects, worms, snails and berries. You can totally customize this gift! Move the bird around, add text, change the color - make it your own! Loading High Resolution...Loading High Resolution...Loading High Resolution...Loading High Resolution...Loading High Resolution...Loading High Resolution...Loading High Resolution...Loading High Resolution...Loading High Resolution... More