Stitchbird
The Stitchbird is a small honeyeater-like bird with a dark velvety cap and white ear-tufts. Males have a yellow band across the chest separating the black head from the rest of the body, which is grey. Females and juveniles are duller than males, lacking the black head and yellow chest band. The bill is rather thin and somewhat curved, and the tongue is long with a brush at the end for collecting nectar. Stitchbirds are very active and call frequently. Their most common call, a tzit tzit sound, is believed to be the source of their common name, as Buller noted that it has a fanciful resemblance to the word stitch. They also have a high-pitched whistle and an alarm call which is a nasal pek like a bellbird. Males give a piercing three-note whistle and a variety of other calls not given by the female.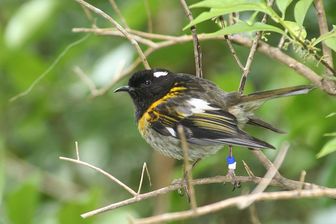 Picture of the Stitchbird has been licensed under a
GFDL
Original source
: Duncan Wright
Author
: Duncan Wright
Permission
: GNU Free Documentation License
The Stitchbird is classified as Vulnerable (VU), considered to be facing a high risk of extinction in the wild.

are, indeed, honeyeaters but Stitchbird is not (Driskell et al. 2007). Rather, Stitchbird is from an ancient relict line whose closest relations are New Zealand wattlebirds. But Stitchbird diverged from wattlebirds ~33.8 million years ago. Thus the appropriate taxonomic placement is in its own family, the Notiomystidae (Driskell et al. 2007). Stitchbird is entirely endemic to North Island and surrounding islets, New Zealand. It is a forest species, somewhat nomadic and forming loose groupings of adults and youngsters. More
The Stitchbird or Hihi (Notiomystis cincta) is a rare honeyeater-like bird endemic to the North Island and adjacent offshore islands of New Zealand. It became extirpated everywhere except Little Barrier Island but has been reintroduced to three other island sanctuaries and two locations on the North Island mainland. Its evolutionary relationships have long puzzled ornithologists. More
These people love StitchBird Craft Workshops: Felty Forest Friends! at Bear and Bird Gallery - Show all * bearandbird user image Start the conversation about StitchBird Craft Workshops: Felty Forest Friends! in Fort Lauderdale - Share your thoughts… Leave a comment after signing in or joining. More
Posted by Stitchbird at 9:48 PM 2 comments Labels: Family Thursday, May 6, 2010 - check it out! Woohoo - next week I am going to Auckland to do some wholesale visits and also to got to tea - Crafternoon Tea. More
New seedling protection system Posted by Stitchbird at 3:07 PM Labels: gardening 0 comments: Post a Comment Newer Post Older Post Home Subscribe to: Post Comments (Atom) Hello and welcome... - Thanks for visiting my blog, I hope you enjoy your visit and will stop by again. I love comments, I may not always be able to reply but appreciate hearing from you. More
The Stitchbird Notiomystis cincta or Hihi is a vulnerable species, thought to be closely related to the nectar feeding honeyeaters (Meliphagidae). It was once widespread throughout the North Island and offshore islands of New Zealand until the 1840's, but the introduction of mammalian predators such as rats and cats, loss of habitat and bird diseases from newly introduced European species have seen the mainland population become extinct. More
The Stitchbird was relatively common early in the European colonisation of New Zealand, and began to decline relatively quickly afterwards, being extinct on the mainland and many offshore islands by 1885. The exact cause of the decline is unknown, but is thought to be pressure from introduced species, especially Black Rats, and introduced avian diseases. More
The Stitchbird is a small honeyeater-like bird with a dark velvety cap and white ear-tufts. Males have a yellow band across the chest separating the black head from the rest of the body, which is grey. Females and juveniles are duller than males, lacking the black head and yellow chest band. The bill is rather thin and somewhat curved, and the tongue is long with a brush at the end for collecting nectar. Stitchbirds are very active and call frequently. More
Videos and images Male stitchbird perched on branch The stitchbird, or hihi, is one of New Zealand's rarest birds. It was traditionally thought to be a member of the honeyeater family, a group of birds that possess a characteristic brush tongue adapted to feed on nectar. However, recent studies ... More
Stitchbird (Notiomystis cincta) = Species information - * Facts & Status * Description * Range & Habitat * Biology * Threats & Conservation * Find out more * Glossary & References * All * More
Stitchbird or HihiThe Stitchbird, or Hihi (Notiomystis cincta) is a rare bird endemic to New Zealand. It has become extinct on the mainland and survives only on offshore refuges, though a small population was established in Karori Wildlife Sanctuary (near Wellington). Its evolutionary relationships have long puzzled ornithologists, and it was finally, but tentatively placed in the Meliphagidae family. New research (Ewen et al., 2006) suggests that it is best placed in its own family, the closest relatives of which are the Callaeidae. More
Stitchbird Notiomystis cincta 2009 IUCN Red List Category (as evaluated by BirdLife International - the official Red List Authority for birds for IUCN): Vulnerable Justification This species is classified as Vulnerable because it has a very small range and population. Intensive conservation efforts aim to improve its status, but the long-term survival of the four remaining translocated populations is uncertain in the long term with all requiring intensive and ongoing management. More
One of New Zealand's rarest birds - the Stitchbird Notiomystis cincta - today returns to the Auckland mainland for the first time in 125 years. 30 of the rare birds, locally called 'Hihi', are to be released in the Waitakere Ranges after being brought over from the Tiritira Matangi Islands, itself a reintroduction site for Stitchbird. Once widespread over the North Island and adjacent offshore islands of New Zealand, Stitchbird has suffered significantly from the joint threats of introduced predators and habitat destruction. More
The stitchbird/hihi (Notiomystis cincta) is one of New Zealand's rarest birds. A medium-sized forest species, hihi compete with tui and bellbirds for nectar, insects and small fruits. But apart from diet, hihi share few qualities with tui and bellbird, which are members of the honeyeater family. More
The Department of Conservation's Stitchbird Recovery Plan has a long term goal of increasing the number of self-sustaining populations of hihi to five. More
of StitchBird Workshops' April event! To take full advantage of Flickr, you should use a JavaScript-enabled browser and install the latest version of the Macromedia Flash Player. Comments view profile BeanBlossom Pro User says: OMG!!!! That rocks!!!! Those creatures are so cute! It looks like there was a great turnout. Yayee! Posted 25 months ago. More
Part of: StitchBird Workshops: Gatherings of the Crafty Inclined * 1 person calls this photo a favorite Tags Click this icon to see all public photos and videos tagged with bear and bird bear and bird Click this icon to see all public photos and videos tagged with StitchBird StitchBird Click this icon to see all public photos and videos tagged with StitchBird Workshops StitchBird Workshops Click this icon to see all public photos More
The endangered stitchbird has been printed on cream background in shades of browns and yellows. The male has a velvety black head, upper breast and back, with white tufts behind the eyes, a bright yellow border across the breast and folded wings, with pale brown underparts. The female (not illustrated) is a greyish brown with white wingbars. The birds are approximately 3" (8cm). Also available with a black background. More
Master's student and stitchbird researcher Troy Makan on Little Barrier Island eating his lunch under the watchful eye of one of the island's many kaka. Saving the stitchbird = Funding from the New Zealand National Parks and Conservation Foundation has boosted crucial research by Massey University ecologists to protect the endangered endemic hihi, or stitchbird. More
stitchbird: "The first nest of a species, about which no field naturalist facts are available, is always difficult to locate. More
DNA analysis has proved the stitchbird is not related to tui and bellbirds, as originally thought. DNA analysis has proved the stitchbird is not related to tui and bellbirds, as originally thought. - A new family of indigenous New Zealand birds has been created after a crucial discovery aided by the curator of Auckland Museum. More
Stitchbird : Notiomystis cincta Click on the picture to hear the Stitchbird "They can hover like great bees or humming birds in front of blossoms. More
Stitchbird Fabrics was born out of a desire to bring some gorgeous fabrics that are available overseas to New Zealand. We offer contemporary, retro and vintage style fabrics as well as accessories and gift ideas. We are passionate about providing quality fabrics and a quality service. We hope you will enjoy your shopping experience with Stitchbird Fabrics and look forward to assisting you with your fabric purchases. More
3 recent StitchBird photos on www.flickr. More
The stitchbird is one of the three representatives of the family Meliphagidae (honey eaters) native to New Zealand. The other two are the tui and bellbird. Unlike these, which have a New Zealand wide distribution and are, in general, fairly common in most suitable habitats, the stitch-bird (Notiomystis cincta) was always confined to the North Island and its off-shore islands, but is now probably extinct, except on Little Barrier Island where a small but apparently stable population persists. More
stitchbird is a member of the honeyeater family, and as such has a curved bill and a long tongue, frayed at the end like a brush, which is used to reach deeply into flowers and drink nectar. Like the other two New Zealand honeyeaters, the Tui and the Bellbird, they feed on a mixture of nectar, fruit, and insects. More