Grey-breasted Martin
The nominate race P. c. chalybea breeds from Mexico through Central America south to central Brazil, and on Trinidad. P. c. macrorhamphus breeds further south in South America to central Argentina. The southern subspecies migrates north as far as Venezuela during the southern hemisphere's winter, and the nominate form also undertakes local movements after the breeding season.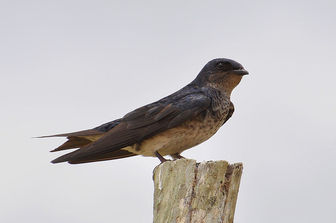 Picture of the Grey-breasted Martin has been licensed under a Creative Commons
Attribution-Share Alike
.
Original source
: Andorinha-doméstica-grande (Progne chalybea macrorhamphus) - MachoUploaded by Snowmanradio
Author
: Cláudio Dias Timm from Rio Grande do SulCamera location
The Grey-breasted Martin is classified as Least Concern. Does not qualify for a more at risk category. Widespread and abundant taxa are included in this category.

Grey-breasted Martin • Galápagos Martin • Peruvian Martin • Southern Martin • Brown-chested Martin Notiochelidon Brown-bellied Swallow • Blue-and-white Swallow • Pale-footed Swallow • Black-capped Swallow Haplochelidon Andean Swallow Atticora White-banded Swallow • Black-collared Swallow Neochelidon White-thighed Swallow Stelgidopteryx Northern Rough-winged Swallow • Southern Rough-winged Swallow Alopochelidon Tawny-headed Swallow More
The Grey-breasted Martin is a relatively large bird for a swallow or martin, found throughout much of Latin America from Mexico to Brazil. In Brazil it is widespread, though only migrating to the far southern states in the austral winter. There were a dozen or more of these Gray-breasted Martins settling on telephone wires in the Picinguaba Reserve. More
Grey-breasted martin, Gray-breasted MartinBirds in Suriname = - Grey-breasted Martin, Progne chalybea Gray-breasted Martin, Progne chalybea Grey-breasted martin Hirondelle chalyb More
Last visited taxon Progne chalybea - Grey-breasted Martin SHOW INFO Taxon - image = species Grey-breasted Martin Progne chalybea (J. F. Gmelin, 1789) = ID: 112867 Original name: 5-000-000-002-730.jpg Size 680x453 - 61083 bytes Image manager: Stanislav Krejčík Directory: 555 Created: 2010-03-07 16:25:03 - User Stanislav Krejčík URL: http://www.biolib. More
For the purposes of our bird news services, Grey-breasted Martin is classed as Ungraded: species that are unlikely to appear as wild birds in Britain or Ireland hide section Most recent photos of Grey-breasted Martin (3) Chascomus, Buenos Aires, Argentina Chascomus, Buenos Aires, Argentina30/12/2009 Chascomus, Buenos Aires, Argentina 30/12/2009 Chascomus, Buenos Aires, Argentina Chascomus, Buenos Aires, Argentina30/12/2009 Chascomus, Buenos Aires, Argentina 30/12/2009 Humidal de Segua nr Chone, Manabí, Ecuador More
identification of the Caribbean Martin vs the Grey-breasted Martin can be found at: http://www.geocities.com/secaribbirds/idcaribbeangray-breastedmartin.html by Floyd Hayes. Photos of Progne subis can be found on http://purplemartin.org/MartinID/martinid.html. Photos of Martins that present more difficulties for us to identify are shown in part II. More