Pin-tailed Parrotfinch
It is found in subtropical/ tropical in both montane and lowland moist forest. The status of the species is evaluated as Least Concern.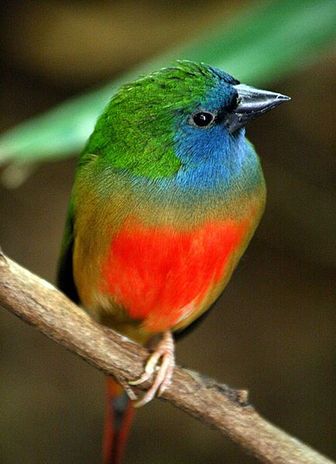 Picture of the Pin-tailed Parrotfinch has been licensed under a Creative Commons
Attribution-Share Alike
.
Original source
: Flickr (http://www.flickr.com/photos/chavals/2128349576/in/set-72157603158040565/)
Author
: Chaval BRPermission(Reusing this file)Creative Commons Attribution ShareAlike 2.0
The Pin-tailed Parrotfinch is classified as Least Concern. Does not qualify for a more at risk category. Widespread and abundant taxa are included in this category.

Pin-tailed Parrotfinch feeding on bamboo seeds - Posted by BESG on 16 September 09, Wednesday Contributed by Dato' Dr Amar-Singh HSS Dato' Dr Amar-Singh HSS took off from work in early September 2009 to birdwatch deep in the secondary forest of Tambun in Ipoh, Malaysia. He had to travel 9 km along a logging trail in a 4-wheel vehicle with the remaining 3 km by foot. More
The Pin-tailed Parrotfinch will eat a significant amount of rice as part of its natural food intake. Nesting: A basic overview only. * Roosting nest: Yes / No * Nesting months: Spring to autumn. * Nesting receptacles: Prefers dense shrubs or dry brush such as tea tree but will nest in a half open nest box. More
The Pin-tailed Parrotfinch Erythrura prasina is a common species of estrildid finch found in Southeast Asia: Malaysia, Brunei, Cambodia, Indonesia, Laos, Burma, and Thailand. It has an estimated global extent of occurrence of 10,000,000 km². It is found in subtropical/ tropical in both montane and lowland moist forest. The status of the species is evaluated as Least Concern. More
Pin-tailed Parrotfinch (Erythrura prasina) at San Diego Zoo, California. Source: Flickr (www.flickr.com/photos/chavals/2128349576/). Date: Taken on September 16, 2007. Author: Chaval BR (www.flickr.com/photos/chavals/). The Pin-tailed Parrotfinch Erythrura prasina is a common species of estrildid finch found in Southeast Asia: Malaysia, Brunei, Cambodia, Indonesia, Laos, Burma, & Thailand. It has an estimated global extent of occurrence of 10,000,000 km². It is found in subtropical/ tropical in both montane and lowland moist forest. More
For the purposes of our bird news services, Pin-tailed Parrotfinch is classed as Ungraded: species which are unlikely to appear as wild birds in Britain or Ireland hide section Most recent photos of Pin-tailed Parrotfinch (1) Kaeng Krachan National Park, Thailand Kaeng Krachan National Park, Thailand24/03/2008 Kaeng Krachan National Park, Thailand 24/03/2008 View all pictures of Pin-tailed Parrotfinch View all pictures of Pin-tailed Parrotfinch show section External Links (0) We currently have no More
Results for: pin-tailed parrotfinchTranslations 1 - 30 of 366 English English Finnish Finnish pin-tailed parrotfinch sateenkaaripeippo, Erythrura prasina red-eared parrotfinch mindanaonparatiisipeippo, Erythrura coloria red-headed parrotfinch melanesianparatiisipeippo, Erythrura cyaneovirens papuan parrotfinch papuanparatiisipeippo, Erythrura papuana tricolour parrotfinch sundanparatiisipeippo, Erythrura tricolor red-throated parrotfinch uudenkaledonianparatiisipeippo, Erythrura psittacea green-faced parrotfinch More