Scarlet-backed Flowerpecker
The specific epithet cruentatus 'bloodstained' is derived from the Latin verb cruentare 'to stain with blood'.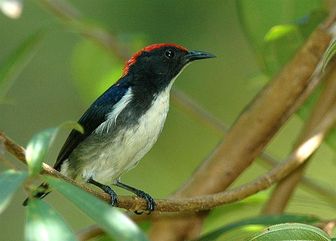 Picture of the Scarlet-backed Flowerpecker has been licensed under a Creative Commons
Attribution
.
Original source
: Flickr here
Author
: Flickr user NatureAtYourBackyard . Photo uploaded to commons by user ltshears
The Scarlet-backed Flowerpecker is classified as Least Concern. Does not qualify for a more at risk category. Widespread and abundant taxa are included in this category.

The Scarlet-backed Flowerpecker (Dicaeum cruentatum) is a species of bird in the Dicaeidae family. It is found in Bangladesh, Bhutan, Brunei, Cambodia, China, India, Indonesia, Laos, Malaysia, Myanmar, Nepal, Singapore, Thailand, and Vietnam. Its natural habitat is subtropical or tropical moist lowland forests. The specific epithet cruentatus 'bloodstained' is derived from the Latin verb cruentare 'to stain with blood'. References - 1. ^ Simpson DP (1979). Cassell's Latin Dictionary (5 ed.). More
Aspects of the topic scarlet-backed flowerpecker are discussed in the following places at Britannica. Assorted References * classification (in flowerpecker (bird)) ...twittering, in trees and shrubs where they find small fruits. The pouchlike, felted nest may have a porched side entrance. A species seen in gardens from India and southern China to Indonesia is the scarlet-backed flowerpecker (Dicaeum cruentatum); 9 cm (3. More
The Scarlet-backed Flowerpecker, Dicaeum cruentatum, is a songbird from the small family of Flowerpeckers. It lives in southeastern Asia and surrounding islands. It has a distinctive 'blood stained' crown and upper back. Classification: Order: Passeriformes Family: Dicaeidae Genus: Dicaeum Species: D. More
Scarlet-backed Flowerpecker, Dicaeum cruentatum post at birdsoftheworldonline.com/scarlet-backed-flow erpecker-dic.... Thanks for a great photo of this interesting bird. Ron Posted 15 months ago. ( permalink ) Would you like to comment? Sign up for a free account, or sign in (if you're already a member). Guest Passes let you share your photos that aren't public. Anyone can see your public photos anytime, whether they're a Flickr member or not. More
Scarlet-backed Flowerpecker on frangipani Previous Next Scarlet-backed Flowerpecker = Posted by Monique (Koh Samui, Thailand) on 5 March 2010 in Animal & Insect. Een roodrug bastaard honingvogel rust even uit in de frangipani (plumeria). We hebben meerdere van deze boompjes in de tuin staan en de bloemen geuren heerlijk! Jammer dat ik ze jullie niet kan laten ruiken. More
View all pictures of Scarlet-backed Flowerpecker View all pictures of Scarlet-backed Flowerpecker show section External Links (0) We currently have no external links for this species. More
Scarlet-backed Flowerpecker chattering calls, other birds in the background, some hiss. login or register to post comments | my favorites | Report this file Featured Libraries - Frank SerafineFrank SerafineSFX SourceSFX SourceNoiselabNoiselabMonster XMonster XJohn LeonardJohn Leonard Latest sounds - 01 Flight of the Bea ...01 Flight of the Bea ...01 Flight of the Bea ... More